Let's face it, the more automatically your Airbnb or short-term rental business runs, the less stress and time it takes away from you. Indeed every business should run automatically to a certain extent, but a short-term-rental business is ripe for automation. I've done this with my property, so I've got some great tips to share with you.
Here's a quick list of tips, then I'll dive into the detail:
Send your guest everything they need to know about how to access and use your property via a triggered email (automatically).
Whenever you send your guest an email send them an SMS too (automatically) so they know they've got an email to read.
Schedule auto-response messages to questions guests may have.
Ensure the check-in process is automatic so that the guest can check-in when they like by using key boxes.
Use an automatic wifi-enabled lock on your property entrance door so you know when someone has arrived.
Schedule an email to the guest after they've checked-in to show them useful amenities in your property and also other things they might need like local shops.
Use products like Hive home to switch on the heating or lights when a guest enters (this will save you a lot of money).
When the guest finishes their stay with you send them a thank you email requesting a review.
Cleaning services: Ensure you have a very detailed checklist for your cleaner. When they have done their clean make sure they send you photos so you can check their job (they'll do a better job if they have to send photos).
Use a platform like Trello for your cleaner to update you on supplies you need ordering. Or even set up a separate Amazon account for your cleaner to directly order needed supplies.
Use a Channel Manager or property manager service to help send automatic messages and combine your diary from each channel.
Use a noise sensor so you're alerted to any noise problems (before your neighbours do). We use this – it's great.
Schedule an SMS message on the morning of checkout to remind them of the check-out time. And put a notice on (the back of) your front door saying "Our checkout time is 11am".
Leave a list for the guest to fill out of any breakages so you know what needs replacing (state that you don't charge for minor breakages).
Use exactly the same cutlery, glasses, plates etc, so that you can have spares in stock.
1. Send your Guest Automated Emails with complete instructions.
This sounds simple enough, but this is easy to get wrong. You have to balance enough information with too much information. The key is to send the just the required information with links to further information (on your guest website).
Key points to consider:
Write in numbered paragraphs with the title (headline) of each paragraph in bold clearly describing what the paragraph is about.
Each paragraph should contain short, easy to read sentences.
If you point to a hyperlink where the guest can find more information say so, i.e. for further information please click this link.
2. Always send your guest an SMS to alert them to the fact that you've sent them an email.
There are many services that automate SMS sending. A good channel manager will also be able to provide this capability.
Remember that people get so many emails these days that many are not read. If I'm sending someone an important email I always send them a text or a WhatsApp message to say I've sent them an email. Do this and your emails will be read.
You might also consider using an email tracking service. MailTrack is a service I use and it integrates with gmail (or GSuite). This way you know your messages have been read (unless they've disabled images in their mail client).
Get Free Premium Content
I'll occassionally email premium insiders' tips!
By subscribing, you agree to get emails from us. I'll respect your privacy and you can unsubscribe any time. Look out for a confirmation email in your inbox.
3. Use a Keybox So Guests can Check-in Whenever they like
This is a really easy win for both you and your guests. Key boxes make checking in easy as long as the directions are good, and means no-one has to stick to a time schedule.
We have tried several types of key boxes. One "pro-tip" based on two years of experience using key boxes is to keep it simple. Avoid anything which is electronic. Why? Because these can cease-up and stop working in the winter months. We had particular problems with the "Igloo Home" key box and instead recommend the Sentinel Push Button box (this is our one in the picture above). It looks more professional than combination type boxes, yet it's simple enough to use and it can stand all weather conditions.
4. Use Home Automation Equipment you can control from your smartphone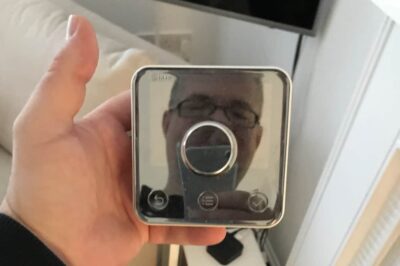 There is a huge choice of home automation equipment available on the market. Key benefits of this include:
Reducing fuel bills through switching off your heating when it's not needed.
Turning on lights when guests arrive to make your home feel welcoming.
Using automatic sensors to turn off lights when the guest is not in that area to save electricity.
Improve your property's security.
Understand your power consumption and usage so you can optimize it.
You can read our reviews of the Hive products here.
Tony Russell
Get Free Premium Content
I'll occassionally email premium insiders' tips!
By subscribing, you agree to get emails from us. I'll respect your privacy and you can unsubscribe any time. Look out for a confirmation email in your inbox.