Guests love thoughtful details. When you stay in a hotel and there are chocolates beside the bed, doesn't that make you feel good (appreciated)? Yes of course. In this post, I've got 40 ideas for you to really make your short term rental shine which is really very inexpensive. And of course, the more you show the guests you care, the better your reviews. Some of this you may already have thought of, but there may well be things that you haven't so please read on, and let me have your feedback in the comments!
1. Flowers and Hanging Baskets
Flowers are a really easy way to show your guests that you're thoughtful and you want to add a nice touches to your property. Whether the flowers are hanging baskets, in a vase or if you have a garden, terrace or balcony, these are a totally inexpensive way of adding a bit of fizz to your listing.
Check out this picture of one of my apartments (this cost me less than £20 and has lasted 6 months – so far!):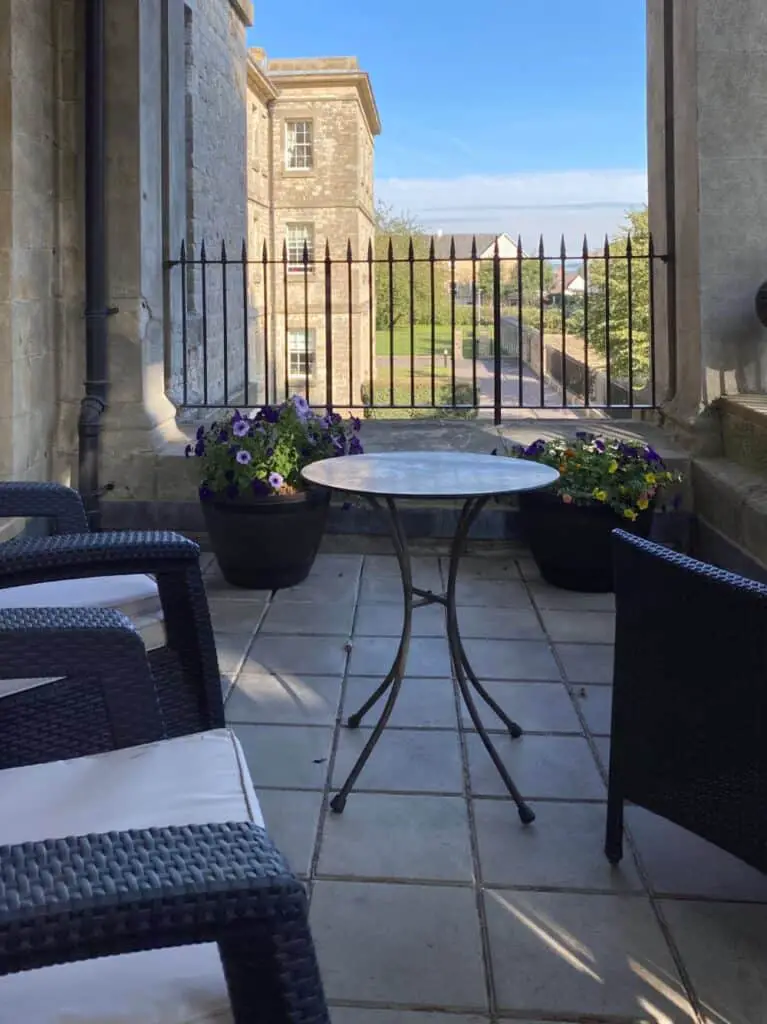 2. Get good at DIY and repair small problems fast.
With the benefit of youtube, there are so many resources for inexperienced DIYers to solve problems at their properties without having to call a professional. These include: plumbing, decorating, design, cleaning and more. Here are some links to some of my favorite channels:
Plumbing Tips:
Plumber Parts – Very experienced Plumber / Gas Engineer. Funny, super friendly guy who covers almost everything you need to know about plumbing – in the UK.
Skill Builder – Experienced UK Plumber with great tips on plumbing and bathrooms.
Roger Wakefield – US based plumber with one of the highest Youtube subscriber counts. Great advice.
Carpentry, DIY & other jobs
Charlie DIYte – Well over 50 explainer videos from how to fill a hole, to how to make fantastic looking cupboards. Quality channel. (UK based).
Home RenoVision DIY – Canadian based home renovator: I actually don't particularly like this guy's style, but he certainly has some excellent tips, especially on painting and decorating, and they can be used everywhere regardless of where you're based.
If you have any great videos or channels to share, please leave a link in the comments below.
3. Welcome Baskets
A welcome basket is just that: a small basket of bare essentials to get people started. This will be really appreciated by guests who have travelled a long way to your property. This is why hotel rooms have mini bars.
You don't have to go crazy, I usually leave a loaf of bread, A pint of milk, tea and coffee, and possibly a six-pack of beers or a bottle of wine (regulations permitting!).
What's also really nice is a welcome letter (if you've got good handwriting) preferably handwritten, welcoming the guest. The style of how you do this will depend on the style of your property, but never underestimate the power of the personal touch to make people feel important and welcome.
4. Highlight your walls with nice pictures.
I always recommend people decorate their property primarily in white (unless you're going for a board and batten/feature wall approach which does look really good). The reason I recommend White is simple: it's easy to touch up any scrapes or imperfections without having to completely redecorate.
However: White does look a little bland and boring, so I recommend buying attractive pictures that will accommodate a broad spectrum of tastes to add some aesthetic pleasure to your space. It's worth pointing out that you do not have to spend a lot of money on this. Local charity shops and secondhand shops often have really nice pictures (sometimes already framed) that you can pick up for next to nothing.
Another option would be signing up to a website with high-quality stock photos, and then having these printed and framed nicely. This option is probably a little more expensive and will cost you something like £50, however, it's an easy and nice way to make things look good.
5. Repair and Replace old items quickly
Let's face it, no one wants to be in a property which is either dirty or full of old and nasty looking fixtures and fittings. I'm not talking here about expensive items like televisions or furniture, I'm talking about things like rusty old pots and pans, or tarnished looking cutlery.
The best thing to do here, and this is exactly what I do, is regularly changing to new sets of pots and pans, cutlery, knives and forks, and any other high touch items. I don't make the mistake of buying expensive items in the first place, what people want is new or nearly new looking items. It also makes a lot of sense to buy things like plates, bowls, cups, glasses, wine glasses etc from the same source. Are use Amazon basics. The reason I do this is because I don't want to have to struggle to match the existing stock, and Amazon basics has cheap but nice quality items readily available, and the designs don't change, so you can easily replace things.
6. Improve your lighting with mood lighting.
6. Improve your lighting with mood lighing.
LED floodlights are a really easy and cheap way of making your space look fantastic without having to spend a fortune. The reason they work so well is because they can be placed behind things. Often the expense in a light fitting, such as a tabletop lamp, is in the fitting itself, it isn't in the Lighting effect. LED floodlights can be set behind furniture, and in other strategic positions to create amazing lighting effects that will really impress your guests.
This is a light I bought last week (this is not a sponsored or affiliate link):

and it makes things look awesome, like this: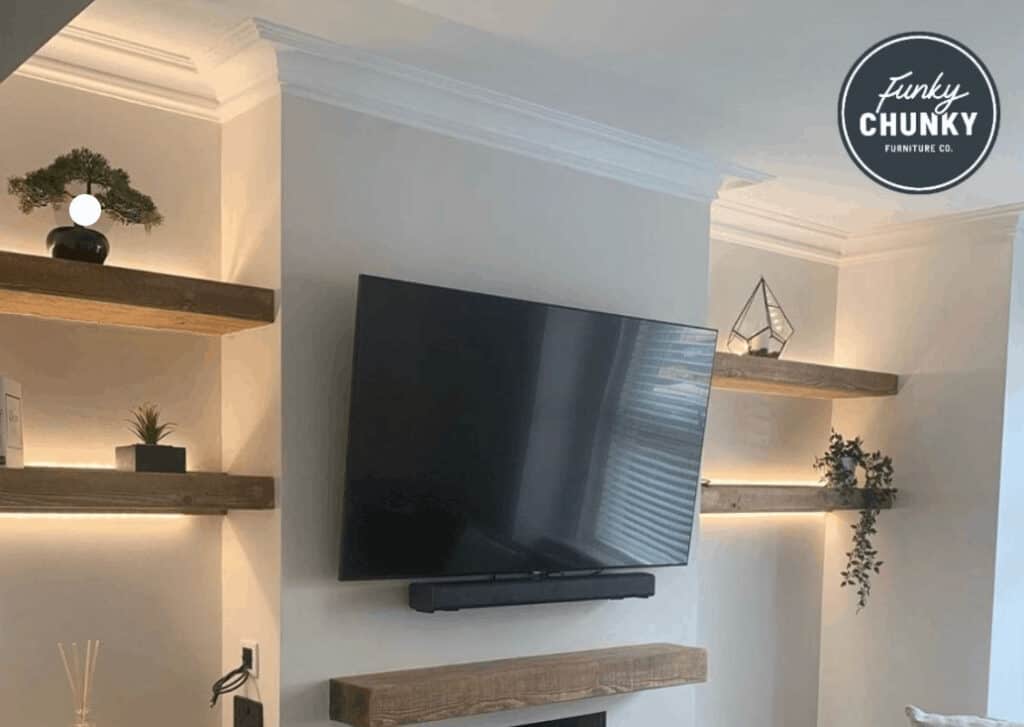 7. Windows – don't forget this major room feature!
Windows are probably one of the biggest features in any room, but people forget to make them look great. There are a ton of options out there, and again, they don't have to be expensive. I recently bought these dual-blinds for one of my properties, and I thing they look great.
This whole window cost less than £150.
8. A false fireplace.
OK, so a real fireplace would be even better, but there are some great and inexpensive options out there for false fireplaces that look real. This will create a warm ambience for the winter evenings and is an easy way to fill some empty space. The flicker of flames is scientifically proven (see this article) to induce a state of relaxation in people, so there's a reason why fireplaces are soon popular.
9. Doormats and first impressions!
People tend to make up their minds about things very quickly. Within a matter of seconds. If your front door looks shabby, or your doormats are old and worn out, how will your guests respond? Probably no great. These are easy details to fix. A new doormat costs £10 or less, and painting your front door, maybe £20 and a couple of hours work.
10. Pay attention to detail outside as well as in.
I stayed at a cottage in the summer. The BBQ was filthy. It honestly made be not want to eat food cooked on it. The garden was also shabby. Paying attention to detail on the outside is really cheap, it just requires attention.
Look at how painting this fence instantly improves its appeal: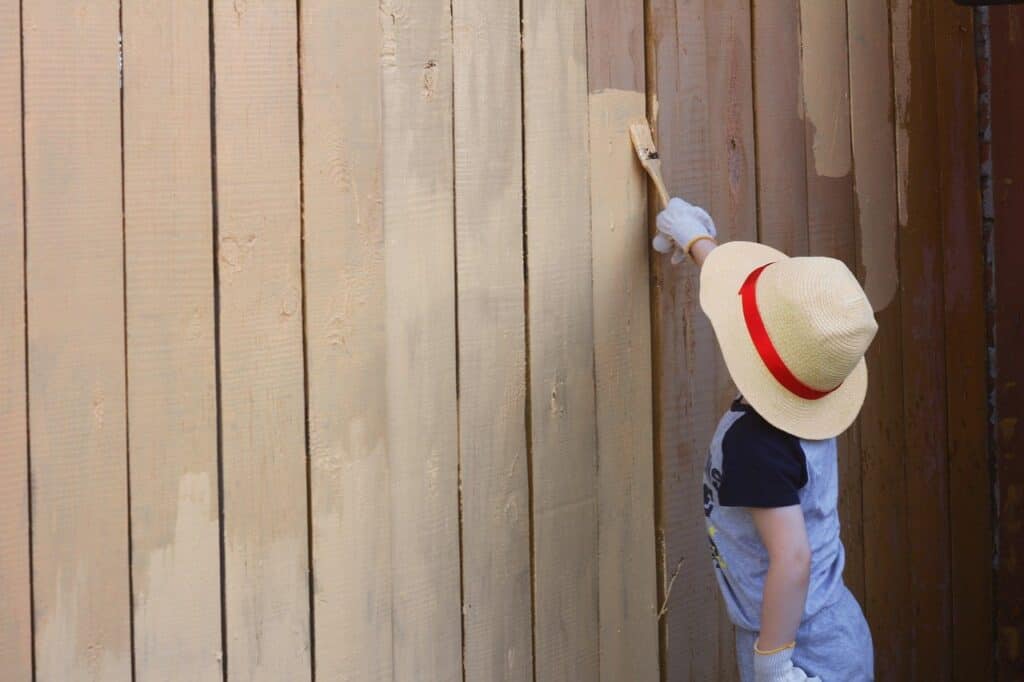 Hot Tip: Look out for cigarette ends. These are gross. People do smoke, so find and remove these!
11. Make sure your heating or AC works.
It's very good idea to take a short plumbing course soon you can fix basic problems. There are courses that last a week for $500 or so and will give you a very good idea of your heating or AC system, and if you want to stop giving away your profits to plumbers, learn how it all works, and replace anything that's giving you repeating problems.
12. Good coffee = an easy win!
Most people, especially business people in a hurry, enjoy your coffee in the morning. Something like a Nespresso coffee machine is a great investment and will be seen as going the extra mile rather than just leaving a pot of instant coffee.
13. Replace old power sockets with Power & USB
Everything works on USB these days. So make it easy for people by replacing sockets with USBs included. This will please your guests, and is better than leaving USB chargers (which tend to go missing).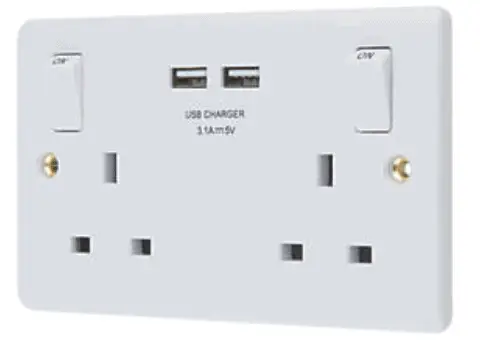 These are less than £10 for two at screwfix (Walmart in the US).
14. Amazon Alexa!
It's well known that Amazon is almost giving away their basic Alexa product (that's called a loss leader) with many different purchases. (I've had 3 free with Hive central heating installs. Don't buy the expensive models, but the basic model is a nice touch, and will add that little 'bit extra' to your property.
15. Books and Board Games.
A selection of books about the surrounding area or really any other relevant topic is a nice touch. Some would say it's even a classier touch than having the latest smart televisions. Board Games are also a nice thing to leave out for families or anyone else who might happen to like playing them. I know that I have had many guests use the games we leave out, and often people leave behind books, which we keep in a mini library.
16. Repaint your kitchen.
Rather than replace, repaint your kitchen. There are hundreds of YouTube videos on how to do this. If you do this properly, you can make your kitchen look fantastic, as if new. Making money in the short term rental business is about making the most of your assets, not spending big bucks replacing them.
If you have broken shelves in your fridge, or your oven door handle needs replacing, then replace it. Not the whole appliance. These items can usually be found easily on ebay (or similar) and can help make your kitchen look like new.
17. Leave Sign Posts.
Signs help your guests out. Even if you have a great guest information website with all the information on there, try and make your property as intuitive as possible. For example, instructions on how to use the dishwasher kept just near the dishwasher would be really helpful. Instructions on how to use the Internet in various different places (in the living room, beside the bed et cetera) will be much appreciated.
18. Replace Bathroom Features not the whole bathroom
Rather than having your bathroom completely stripped out and replaced, instead, add new taps and a new showerhead, and perhaps a new toilet seat for example. This will give the feeling of being new without you having to spend thousands on a complete refurbishment.
19. Get rid of the cables
Use wire ties to tidy up unsightly cables. This makes you look organised as a proprietor, and just looks good.
20. Help your guests clean for you
Leave plenty of binbags, dishwasher tablets, and washing machine tablets available. Guests will appreciate this, are more likely to put their dishes in the dishwasher, and if you're very lucky will even put your sheets in the washing machine after their stay (I've know more than a few people that do this).
21. Paint your radiators.
Paint your radiators. This is cheap and easy and can bring back to life and old radiator that still works and make something look like new again for just a few £ or $.
I hope you've found some of the points in this article useful. If you'd like to add to this, then please do leave your own tips in the comments below. If you did find this article helpful, then I'd really appreciate you sharing it on social media!