Whether you're letting your property on Airbnb, Booking.com, Expedia or any other website, a great (not good) house manual does more than serve your guests, it also helps solve problems for you too.
This article explains how you can write a house manual, why you should give people different choices, and how you can make sure people have read the really important bits.
The way to create a great house manual is to put yourself in the guest's shoes. What information would you want? What information is needed to "operate" the appliances at your property? Where are the local shops? What should be done in an emergency? etcetera. But you should also consider who will be staying with you: Some people may not bother to read the house manual (and your house rules), and some may prefer an offline or online format. Remember that a house manual should make your life simple and the guests' life simple, so let's jump into the all-important details:
1. Why is a house manual important and what can it do for you?
A house guidebook is important for a number of reasons:
Your guests have a roadmap to your place and the areas around your place. Put another way, they feel supported, and this is important for guest satisfaction.
Depending on how modern your property is, there may be elements of your house that are not at intuitive as you think. For example, simple instructions on how to turn the heating or AC on and off might be obvious to you, but may not be to the guest.
It's important that guests have a channel to easily contact you in case of problems so you can solve them quickly and they don't impact your reviews. For example, I recently had a review saying the hot water wasn't working. Had the guest called me about this I could have solved the problem in 3 seconds, but I was not contactable enough and had not put this in my house manual (since corrected).
Your house rules are really important. Guests must know what is and are not allowed: smoking, noise levels, parking are all examples of points that can be critical to the success of your business. We have developed a way of making 100% sure guests have read out house rules. More on this later.
For you, a house manual can save you countless phone calls from guests wanting basic information. For example, we use Nespresso coffee machines in our apartments, and one guest even wrote in his review that there were no instructions for the machine! I was bemused, as I thought that Nespresso was a nice 'perk' but he had a point, not everyone knows how to use them.
2. The Format of Your House Manual – your 3 choices
When choosing how to present your property's guidebook, to my mind you have 3 choices:
In a traditional paper format in a nice leather-bound folder. Just like the sort of things you get in hotels.
Using an outsourced 3rd party app, something like hostfully.com
Using your own website with links to YouTube videos
I personally favor the first and last options.
Why?
Well, a nicely presented folio explaining your property helps to brand your business and looks professional. It is also more suitable for, perhaps, more senior travelers who may not want to look at videos or your website.
I also really like youtube videos. As the saying goes, "a picture tells a thousand words", well a video tells even more. And the great thing is you can get through a lot more information, far more quickly than in written format, and you can actually "show" people rather than "tell" them.
The videos don't have to be professionally edited Hollywood blockbusters, they just have to give the information needed. If you're unsure about the basics of making a video, check this link to help you.
We get countless positive comments on the videos we show our guests. Here are two examples: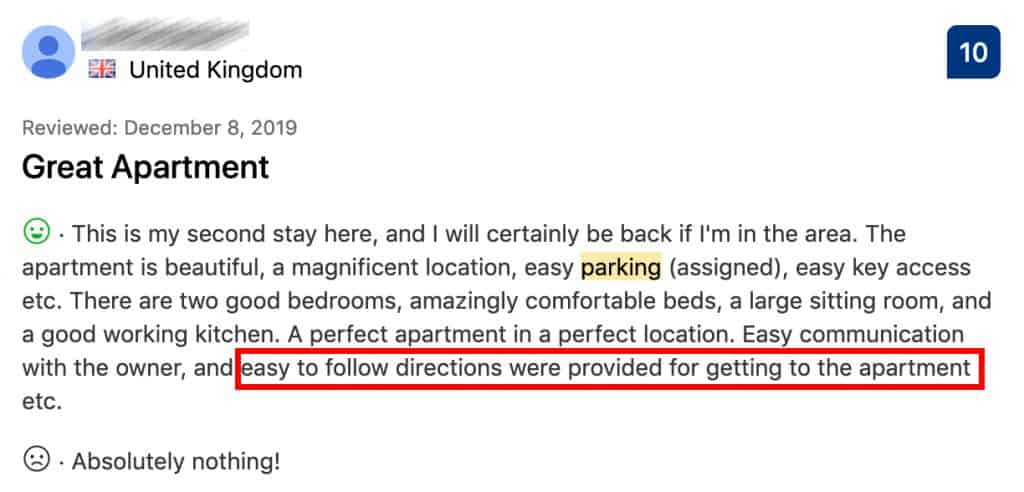 3. What information should go into your house manual?
Before we even go into what should be in a house manual, let me preface this by saying that I leave a handwritten welcome note on top of the house manual. People love this. It genuinely makes them feel welcome and gets things off to a nice start. (Never forget that nice starts = over-looking of minor problems and nice reviews)
This is the order I suggest people include things in your guidebook, and I do suggest that less is more. People want something simple and easy to digest, be it online or offline:
Your Contact Details
This is important, as you don't want to bombarded with calls, especially if you have more than one short term rental. You should include:
Contact details for non-urgent queries (usually an email address).
Contact details for emergencies (and do define what an emergency is. Not figuring out how to get Netflix working on the TV is not an emergency!)
Your House Rules
Now I fully appreciate that some people might think that getting to your rules at this early stage might upset or alienate some. This is not so in my experience. Since we included this, it has had no impact on our rules whatsoever and if anything has given more clarity on what guests should and should not expect.
The key things you should include here are:
Your rules around parties (I don't have them).
Your rules around visitors and extra guests (This will very much depend on your property, but it can be very important).
A reminder about the neighbors and consideration for them.
"Quiet Hours" – i.e. no loud noises, TVs, etc after 10 pm (for example)
Check-in and check-out times, and options for extensions at a fee (even if you don't charge for this if you say you do and then you don't when a guest asks they will feel good about the gesture).
Expectations as to how the property should be left (very important. You're not a hotel!).
How things work
You should include here everything! In order of importance are:
Heating and AC
Shower and Bathroom
All kitchen equipment including (Washing Machines, Dryers, Ovens, Microwaves, Dishwashers, etc – this is where videos are great)
Hot Tubs (if you have one)
TVs (particularly how the sleep timer works – I've stayed in countless hotels and struggled to find this one)
Any non-obvious Domestic Lighting or gadgets
Anything particularly unusual about your property
Where things are!
Key things to include are:
Where to put out the trash (and when)
Where the local shops and transport links are
Where any items you provide in your property are kept – note of particular importance are bin bags (provide plenty) and bags for small bins in the bathrooms. (If you don't provide these your cleaners will hate you!)
4. How can you make sure your guests agree to your house rules?
This bit is really important. Getting your guests to agree to your house rules will only really matter for 1% of guests, as the vast majority of guests are well behaved, however, that 1% could cause you tremendous problems, so here's the solution.
Prior to a guest checking in, email the guest a document to be signed electronically which shows that they have read and abide by your house rules.
There are very many different service providers that can offer this to you. I use hellosign.com (this is not an affiliate link) which sends the guest a one-page document for signature and can be signed on a smartphone or tablet.
This is roughly what it looks like:

Why does using an e-signature work?
Along with charging the guest a deposit (I would recommend $500 or currency equivalent), having them sign something like this will act as a tremendous phycological barrier to poor behavior / following your house rules.
Here's the text of the document I have people sign (you can download it for free, no forms to fill in) ==> CLICK HERE TO DOWNLOAD
Conclusion
As usual, I hope you found this post useful.
What do you put in your house manuals? Please let me know in the comments below! I'll be sure to respond.
With every good wish,
Tony