Many people don't realize that you have many options as to how to charge your guests for their stay with your short-term rental. It's true that with some platforms you only have one option, but generally, this just refers to Airbnb.
This article is all about the different ways that you can charge guests and the pros and cons of each, and some great extra tips to help you increase your revenues!
Why how you charge matters.
First of all, let's address the question of why it matters how you charge guests:
The simple answer to this question is depending on how you charge a guest, the platform (that the guest books on) may be able to influence refunds or reductions in charges; and also if you're charging the guest's credit card yourself, it matters how are you do this because of changes in a recent law.
Let's dive: I'm gonna start with the most obvious ways to charge guests and then look at some of the alternative ways.
Different ways to charge
1. Airbnb
Airbnb has little to no flexibility as to how you can charge your guests. The very most flexibility is your ability to vary cancellation periods. Let's look at the pros and cons:
Pros:
Airbnb has streamlined the charging process so guests' payments are all automatically taken without you having to be involved. This is great and saves you the hassle of billing them.
If there are any problems Airbnb will get involved, so you don't have to.
Airbnb has their much-touted host guarantee program which builds in a level of insurance for you. (But check the terms and conditions of the host guarantee program here as it's not a 'catch-all' solution.
Airbnb is one of the biggest brands in the short-term rental business and often this will therefore bring an added element of trust into the process of booking and also

billing the guests

.
Cons:
If there are any problems with a reservation, for example for any reason a guest asks for a refund, you are often left with Airbnb having to arbitrate over a problem. This means you have no control over the process.
Here are some real life examples of problems people have with Airbnb refunds: (click the image to view the full post)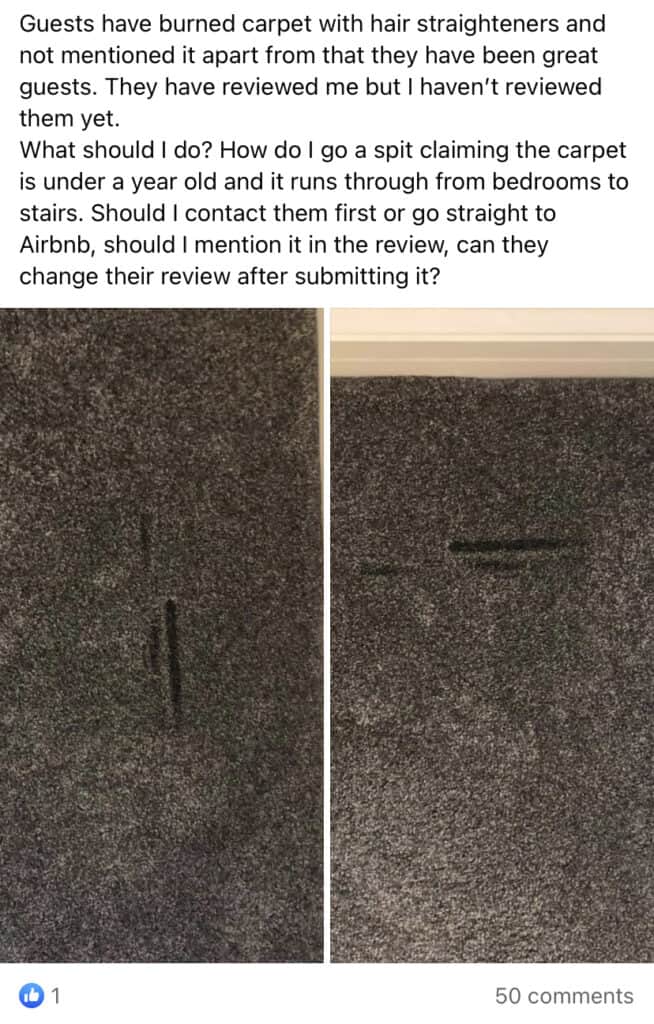 I see countless problems with people dealing with problems, refunds and general hassle with Airbnb – every single day!
Your payout may not be as fast as you want it to be, and certainly, there are other platforms where you can charge guests upfront which of course helps with your cash flow.
With Airbnb, it's difficult to take a deposit.
Without a guest's credit card details you can't bill for any extras you might sell.
2. Booking.com & Expedia – direction connection
(A direct connection means you have a contract directly with the websites and they take the money from the gas for you and then remit money to you on a monthly basis)
Like Airbnb, you have a direct connection with the website, and therefore are unable to move things around through a third party (see details later in this post), however, they do have certain advantages over Airbnb:
With these platforms, you have the ability to add verbiage to terms and conditions to include things like deposits and payments for extras in a much more flexible way.
If there are any problems these companies will let you deal with it, and the main concern is: "is the guest is relocated or offered alternative accommodation".
They won't get involved or arbitrate on disputes over payments or deposits etc.
This isn't a guest billing issue, but booking.com and Expedia are two giants of the travel industry business, and therefore you will attract many more business customers, rather than people looking for "cheap sleeps" (I know, not everyone on Airbnb falls into this category, but Airbnb is not the go-to website for business bookings.
If you have to cancel a guest, or there are any other difficulties there is no automatic penalty notice issued by these websites to your profile, which is a major disadvantage of Airbnb, and if you have to cancel a guest, they can't review you.
Just like with Airbnb these platforms do the payment processing so you don't have to worry about invalid credit cards or chargebacks
Cons:
Versus Airbnb, payment processing can be even slower, and on a monthly basis
3. Airbnb, booking.com and Expedia
via a channel manager

.

(If you want to know what a channel manager is please click here)
Pros
if you are using a Channel Manager with a third-party payment processor, you have the ability to process credit card payments in advance of the reservation which will help dramatically with your cash flow (in certain situations). Please note this does not apply if you're using a virtual credit card from either Expedia or booking.com.
Using a channel manager, you have the ability to overbook your properties (if your situation makes this appropriate). See the video below on how this is useful:
If you have charged the guest's credit card using 3-D (*see below) secure this means it's very hard for the guest to claim money back on their credit card. Of course, if you don't use 3-D secure then this means that it's much easier for guest to claim money back, and for fraudulent transactions to be processed.
*(3-D secure is a new payment standard introduced in the European Union where payment has to either be validated by a credit card terminal and pin number or payment made online has to go through a 3-D secure payment processor. An example of this would be how are you have to enter a code sent to your mobile phone when you are making a substantial transaction, for example for an air ticket.)
Cons
More manual management and organization of guest payment processing.
Processing refunds in the event of forced cancellations billed in advance (i.e. during COVID).
4. PayPal and 5. bank transfers
PayPal is probably the least professional way to charge a guest. Can you imagine for example being asked to pay for a hotel room via PayPal? Highly unlikely. If you don't brand yourself as a business (and you position yourself as renting a cottage for example), you may get away with this, however, it's far better in my view to be able to charge people more professionally the mess.
PayPal also has a dispute system that's even easier than a credit card transaction to query.
Payal (business accounts) take a % fee of billings.
However, once the booking is confirmed, PayPal

is

a great way to take deposits, because it's easy to refund guests using PayPal.
Bank transfers are probably the most secure way to take a payment, and also don't incur any bank charges, however again with PayPal this will be an unusual way for a business (certainly in the UK) to take a payment.
Bank transfers would also be highly administration heavy
Concluding Thoughts:
Most people stick to just Airbnb. This is very limiting in how much revenue and exposure your business will gain. There are a ton of other things you can do to gain exposure for your business. Why not check out this video on taking direct bookings through your own website. Click here for more details.
Other Articles: