What many people fail to realize when they start on Airbnb (or booking.com, Expedia etc) is that they are running a business. It might be a micro business, but it's a business all the same. Therefore treat it as such, and keep the following truism in mind:
Business, and specifically sales decisions are largely based on relationships. If you have a good relationship with your customer, they will be very forgiving. If you have a bad relationship, they will be supercritical, and it will hit you where it hurts: in the reviews.
So, how do you build good relationships with people booking your property?
1) Present your property attractively but accurately.
2) Ensure even before guests book they know when they will pay, how they will find you, how they will check in, what facilities you offer, what you don't offer, how your prices are structured, and when they can check in and when they should check out.
3) Ensure that your communication and presentation is professional – even if – you are are a "micro business".
What do I mean by this? 
Have you ever heard the expression "if it barks like a dog and wags its tail like a dog then what is it?" – of course – it's a dog.
In other words, if you present yourself and your accommodation like you're an amateur looking for lodgers, then that's how people will perceive you. Whereas if you copy what works, and present yourself as a premium property, then that's how the customer will perceive you, and yes, they might have higher expectations, but you can also charge higher prices.
Specifics on guest communication and presentation 
4) Get yourself a domain name, and website (booking.com will literally produce a website for you from the data on their system).
5) Get a logo made. You can do this easily on freelancer.com for $25. (Run a contest).
6) Always, always be friendly and professional on emails or messaging systems. Address people correctly. I saw this on a forum recently:
"Hiya, Ifraid we can't do that our check-in time is 8pm max.
Trish XX"
You can not communicate with guests like that. Firstly it establishes a precedent of informal communication, which could cause you problems – if you end up having to solve a problem, and for most people, this simply isn't professional.
OK, you don't have to write like you working for the Ritz Carlton, but write and communicate like you're running a business, because you are.
Building Really Winning Guest Relationships
This is a great topic, so let's dive deeper in.
Let me start with some numbers for you.
I am always tweaking and changing and "working on" my business to make it better. So, at the end of 2018, I thought "what can I do to get even better reviews, and how can I build a system to do this".
This is what we did:
For the whole month of October 2018, even though we operate a self-check-in system, and even though guests are sent a text with a reminder (use textlocal.co.uk – you can send texts from a name rather than a number so that you don't get into a "back and forth" with guests; we called every single guest on the day of arrival or the day before arrival to welcome them and ensure they had received our arrival information.
We then counted the number of guests leaving reviews, the quality (out of 10) of the reviews, and finally, the number of guests with complaints against 3 test months that year (February, July, and September) to allow for seasonality.
These were the results:
| | | | |
| --- | --- | --- | --- |
| | % Reviews Completed | % Reviews 10/10 | Complaint No. |
| February | 40 | 85 | 0 |
| July | 60 | 77 | 1 |
| September | 52 | 83 | 1 |
| October | 82 | 95 | 0 |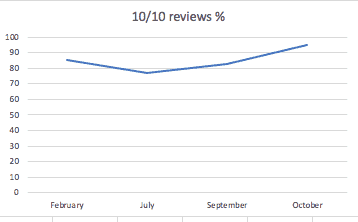 We already had a high level of 10/10 reviews (our property averages 9.3 after over 200 bookings [on this channel]), however, the chart shows a huge jump in review completions in October – the test month when we called all the guests.
So from this, we can very easily see that just by changing one single element of the relationship with the guest – and adding a phone call to the beginning of the stay had a vast improvement in the goodwill factor. In other words, as with all businesses, if you can strike up a rapport with people and they like you, then they will be much, much more forgiving when it comes to reviews.
This just goes to show, that in fact, it's not about how new your kitchen is, or even the overall quality of the property that will affect your reviews, it's how well you get along with your guests that's important.