How to Furnish An Airbnb Rental (the short answer)
I've furnished 7 Airbnb rentals, and all of them have had excellent comments from my guests. In this article, I will show you how to furnish an Airbnb apartment and show you what (I think) is the best furniture for Airbnb and why.
My short formula for Airbnb furnishing is:
Choose simple elegant furniture. Remember you are catering to a wide range of tastes. Leave the essentials for what the guests needs. Guests hate clutter and the "minimalist" approach looks smart. Make the decorating fresh and simple. White is often the best choice. Ensure everything is deep-cleaned, this way it's easy to keep clean. Choose hard-wearing furniture. You will have a lot of different users, so don't buy the most expensive, buy the most solid and well-designed. Kitchen utensils, however, will get scratched, so they need to be easily replaced. I replace my pots and pans every 3 months. Choose a bed that will not fall apart – beds get used a lot!
Let's go into more detail about what I've done, and how I've kept the price low, but the quality is fantastic!
Airbnb Furnishing – Getting Started Checklist.
Before we dive in, it's worth realizing that when working out how to decorate an Airbnb it's worth taking some time to consider the cost to furnish the Airbnb and to keep the following in mind:
Write down your budget first. Consider what is reasonable to spend and what will give you the best return on investment in reviews and guest satisfaction.
Every Dollar / Pound spent is a dollar/pound less profit. Once you've written down your spending list, remove unnecessary items, and focus on what you really need.
If you're furnishing an apartment from scratch not everything must be brand new. In fact, you can save a great deal of money by looking at second-hand shops and charity furniture shops. I have bought lots of things second-hand (TV tables, bedside tables, even nice kitchen sets) and once cleaned up they look new.
Look carefully for discounted furniture items. I bought a bed for our new home a few years ago and it cost £1500. We've just bought another bed (bigger as our daughter climbs into bed with us!) and it was only £300 and is actually much nicer. So you must plan ahead and look for non-obvious solutions. Amazon has a ton of great offers.
Living Area
The living area will require the following:
Table and Chairs – Go for something cost-effective, functional, and robust. Ikea is fine.
Sofa & Armchair – The key here is a) they're sturdy and b) ideally they have washable or replaceable covers as red wine will be spilled!
TV – in 2022 a smart TV is necessary, but don't go crazy. Mid-Range at best is fine.
Waste Paper Bins – Help guests help you keep things tidy
Coffee Tables (with drink mats/coasters for protection)
USB (and USB C) charging points will earn you good reviews as they're helpful.
"Buy Sofas with replaceable/washable covers. Things will be spilt on them, and if the covers are hard (or impossible) to clean quickly and easily, this won't look good for your next guests. (Ikea do a great range with washable covers)."
Table & Chairs
The dining room/area is a really important part of a furnished rental and in listings, I check out (I do this a lot!) it's often overlooked by Airbnb hosts. Remember the key here is two things:
The dining table must be hardwearing because you'll (hopefully) get a lot of traffic (guests). It does not have to be the best looking or most expensive table in the world because it's easy to add a tablecloth, table runner, candles, etc, to make it look nice.
The table and chairs

must be comfortable

. I've lost count of the times that I've sat at a table and the chair is totally uncomfortable. This is much more important than how it looks.
Make sure the chairs are sturdy. They have to cater to guests who weigh 150 kilos! because you will get them. Before you buy, read the reviews carefully. Darker colored chairs are also good, for two reasons: 1: stains or blemishes will be less obvious, and 2: they may complement a room that is otherwise light and airy.
Dining tables are also an excellent thing to look at buying secondhand. They will likely be one of the biggest pieces of furniture you buy, so it's worth being price-conscious:
Why? Because a) there's a lot of people who get rid of nearly new furniture if you just look for it, and b) when a table is "made up", with a runner, a cloth or other decorations, guests staying will just look at the overall impression, and if you've cleaned up a second-hand table, then it will look new anyway.
Sofa & Armchairs
The key here again is use (they will get a lot). You must buy something that is able to cope with a lot of traffic but be easy to keep your living room looking nice.
Avoid: faux leather – many sofas and chairs use this material, and although it looks nice to start with and feels like leather, bits tend to start falling off it after a few years of use and you'll end up having to replace the whole thing.
Avoid: Real leather. It's much too expensive, is harder to keep clean, and very hard to repair, and unless you can find something nice second-hand, again, this will burst your budget.
Do: Consider sofas with washable covers. (Ikea does an excellent range.)
Why? Because children will leave coloring pencils on them (you'd be crazy not to allow children, families can be your biggest market – they are mine), and people will invariably put their feet upon them. You, therefore, need to be able to whip off the covers and put on a new set quickly.
This is what I use: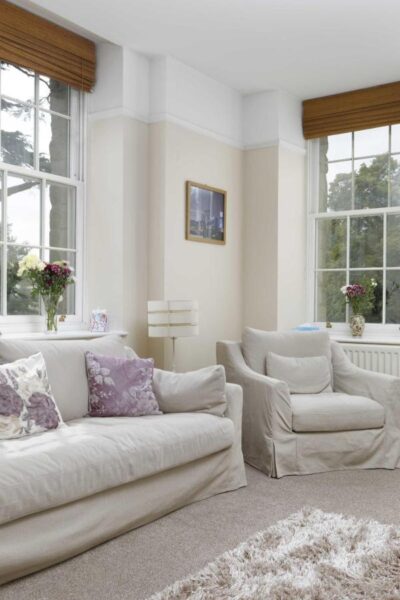 TV
Do not spend a fortune on televisions. Nice TVs are not expensive these days. Your guests will not care if you don't have the latest 4k bending TV. They will usually be there to visit relatives, stay for business, or on a short break, or whatever….. They're not there to go to the cinema. You can buy a nice 'smart TV' for under £200 / $250, and that's all you need.
Key Points:
Make sure the TV is not too big. If the television is too big it will dominate the room. If you can find a TV that will fit into a small space, then the rest of the room will not be dominated by it, making the room feel more spacious.
Avoid putting the TV on the wall unless you are really short of space. In my opinion, this looks vulgar. But that's just my opinion 🙂 The one exception to this is in bedrooms, where space will tend to be at a premium.
Do check on every visit that the TV actually works. Aerials get pulled out and TVs unplugged. Your next guests will not be impressed if this is the case.
Bedrooms
I have learned a lot about what guests want in bedrooms over the years. Here are the key things your short-term-rental must have:
A solid bed. Again, no need to go crazy on price, but the bed must stay together (especially if people are having "fun" on it!). Things to watch for are the feet of the bed. If these are plastic or come off easily, you have a problem. The best thing to do is to avoid a bed with feet altogether.
Avoid beds that seem too lite. If a bed is lite, it's probably not that hard-wearing.
Consider buying a bed that has in-built storage. This will be a big help for storing your laundry, and curiously it seems to be the one place guests don't have a look in.
A full-length mirror. You must have this for ladies who are preparing to go to an event. In addition, you must have a power socket for a hairdryer near to the mirror.
A hairdryer. This is a must. Roll the cable up neatly and position it visibly on a bedside table.
If you have space, consider a TV in the bedroom, after all, if your market competes with hotels, they all have TVs in the bedrooms.
Bathrooms
The key thing, really about bathrooms is that they are clean. If your bathroom needs a bit of love and care consider these "easy wins":
A new mirror (some have built-in LED lights which look cool).
A new toilet seat. Extremely easy to fix, and you can buy one for £20
Mastic! One of the most unsightly things in bathrooms is dirty, moldy, blackened or simply old mastic. Conversely one of the easiest ways to make a bathroom look nice is to repair the mastic. Here's a video that will help you do this:
If your bath is old and has chips or stains, you can resurface it for less than $100.
I recommend the kit he uses in this video, which can be purchased here.
Decorating your bathroom. This sounds simple but this is something people often forget to do. Your bathroom will have plenty of spaces that are not tiled, so it's a good idea to make sure these are well-decorated look clean, and nice.
Small details like nice bath mats, A shelf for people's toiletries, and nicely folded toilet paper will help your bathrooms look that much more professional.
Finally, Another easy win: If your tiles are looking old it is easy to re-grout them. Essentially all you need is a grout remover, and then follow any online video to show you how to apply new grout. I would recommend buying grout that is ready-mixed. This will make your life much easier. Another useful tip to make your bathroom look a little bit more modern is to consider using a different colored grout, for example, white tiles with grey grout look really nice.
If your grout is in good condition, You can also consider a grout pencil which will add a new color to the grout, And these can easily be bought online.
Here's a video that will help you apply new grout.
Kitchen
People often make the mistake of thinking they need to completely replace the kitchen when preparing an apartment for a short-term rental. This is not the case, and what you actually need to do is simply make sure things work, and make sure things are presented nicely. Here are my key points:
Make sure you have a full set of cooking utensils, pots, and pans, plates, cups and saucers, glasses, etc. (Glasses often get smashed, just keep replacing them with cheap, but nice sets).
As I said elsewhere on this blog, don't spend a fortune on pots and pans because these will be scraped and scratched, and it's much better to buy cheap pots and pans and replace them regularly. Guests would much rather have pots and pans in great condition than expensive pots and pans which look awful.
Check that your dishwasher and fridge freezer work. Ensure that your fridge freezer is sparkling clean.
Consider painting an old kitchen. This is much easier to do the new might think. Please see the pictures below of one of my apartments' kitchens before and after painting.
Other Things to Consider:
Ensure you have enough USB chargers at your property. Guests will appreciate these.
Leave a cordless vacuum cleaner for your guests to use. This has two benefits: 1) For longer stay guests, they will probably want to keep it clean; and 2) in any case, this gives the guest the chance to leave your property nicely. They can't clean it because there's no cleaner.
Leave out things like bin bags and dishwasher tablets. I counted the number of guests who used these to remove their rubbish and do their dishes and over 75% did if there were bags and tablets left for them.
Sign-post your guests. For example:
Leave a large sign on the back of the entrance door stating the checkout time
Leave details of the WIFI everywhere
Set your expectations of cleanliness that you require on checkout in the kitchen ("Please make sure you leave the dishes in the dishwasher" etc)
Show your guests where to leave the garbage & recycling – again

if they don't know, they won't do it

.
5. Consider remote central heating. Some (not all) guests will leave the heating on high all day. If you know they're not home, you can turn it down remotely.
6. Guests will open cupboards and enter areas that are not physically locked off. Ensure these are clean and tidy.
7. Check out the competition. Go and book a night in another similar property and see what standard they furnish their places to is. Then beat them.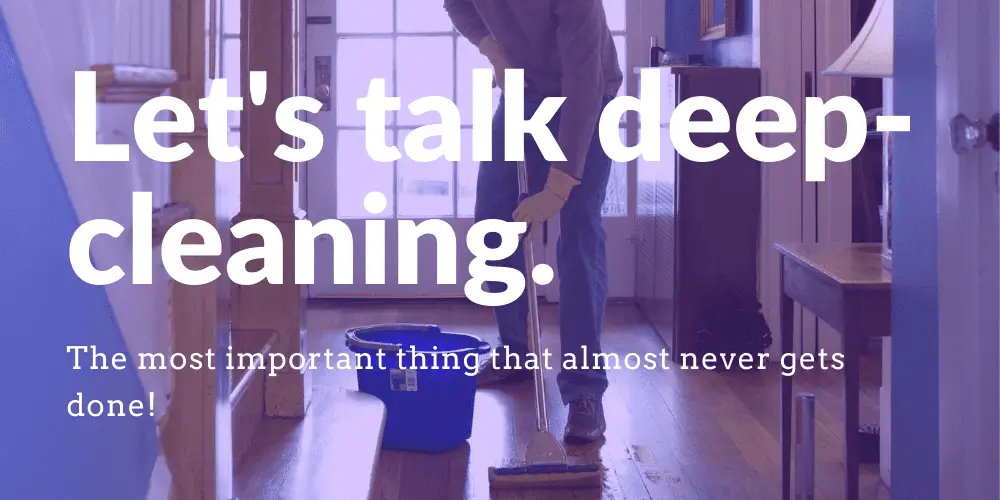 In addition to furnishing: DEEP cleaning
I can not stress how important cleaning is. I divide cleaning into two sections:
Light/Every-Day Cleaning
This means things that are obvious:
Kitchen surfaces are clean (and look clean)
The floor is mopped and vacuumed
Bathrooms are cleaned, and surfaces look clean
Bedrooms are clean, neat, and tidy
The living room is clean, and neat, tables are clear
etc.
What I'm talking about here is the sort of cleaning that a cleaner might do. However, this is quite a superficial clean. It's not a deep clean.
A deep clean is the difference between looking clean and feeling clean.
A Deep Clean includes:
In no particular order:
Radiators
I recently stayed in a very nice hotel in Stratford on Avon, England. The room looked lovely, the beds comfortable, and everything was great. It wasn't until we left to go to dinner that I noticed: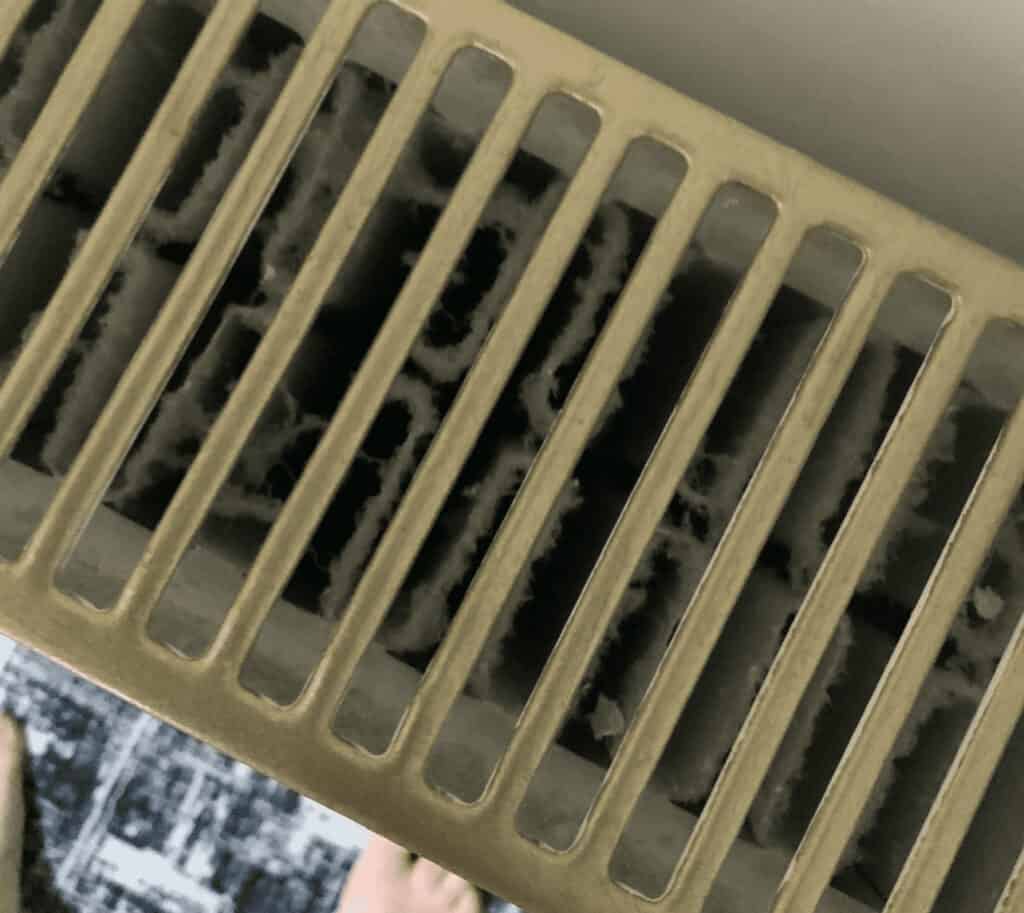 This just totally grossed me out, and raises the immediate question: If this is how the radiator is (painted on the outside, disgusting on the inside) how do they treat the rest of the room?
Therefore, the action point for your property is: go and vacuum your radiators. Get all of the muck out of them. Wash them down with a sponge. If they're really old, then consider painting them (there are loads of Youtube videos explaining how to do this) or replacing the radiator. This is not that difficult to do yourself. Also, think about the fittings on the side of the radiators: Are these clean? Or do these look grubby too?
Think of it like this. Guests won't go crazy unless the radiator is as bad as the picture above, but they will be (unconsciously) pleased if your rads look sparklingly clean or new.
Carpets
Carpets are not cleaned by vacuuming them. This merely takes off the surface dirt and debris. Carpets that aren't clean look bad, smell and are generally obviously unpleasant.
Contrast that with walking into a brand new flat with brand new carpets. They look and feel lovely and it makes you feel comfortable.
Carpet cleaning machines are not expensive. I've had mine for 4 years now and it's very well used. What amazes me is that even on carpets that look clean, the amount of dirt that still comes out is staggering. Spend $100 on a carpet cleaning machine. It will be a good investment. It takes a little bit of time to get used to but is well worth it.
This is the model we have: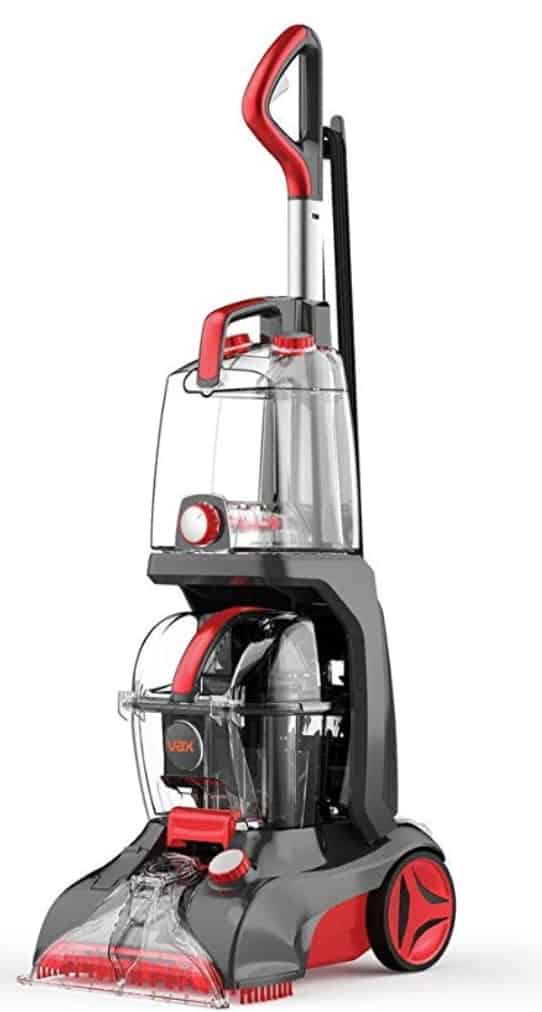 Kitchen Cleanliness
A kitchen where the dishwasher has been run, and the countertop wiped over is not a clean kitchen.
Run through this Kitchen Cleaning Checklist and you'll have deep cleaned your kitchen:
Empty all of your cupboards. Then with a sponge and hot water with some detergent wipe down all of the surfaces. Then do it again. And then again. Rinse and repeat (literally) until all of the jam stains, food markings, et al, are removed. They'll smell great, feel great, and look great. Keep in mind too that guests do check these areas.
Clean above your cupboards. With the accumulation of cooking fat/greece and the fact that most people will not bother to clean above their cupboards, these areas will be particularly dirty. Repeat the process in step 1 here. Your kitchen will smell fresher. TIP: When you've cleaned your cupboards and above your cupboards leave some baking soda in pots or sprinkle in the cupboards. Baking soda is excellent at removing odors.
Deep clean your fridge freezer: This means you remove everything, scrub down with hot water; open the seal and remove all of the debris and old food. Them leave baking soda and some sliced lemons in a bowl of water to create a pleasant odor.
Washing Machine: It's easy to buy a washing machine cleaner that you run through on a hot cycle. In addition to this clean the front of the machine with hot soapy water, and also clean the washing powder container. These are often heavily soiled, yet easy to clean: Easy win.
Dishwasher: Again, you can buy a dishwasher cleaning kit very cheaply to give it an internal spring clean; however don't forget to wipe the top (control) section so it looks clean and new. Likewise, fill the dishwasher with rinse aid and salt on a regular basis.
Oven: Clean the oven every time. You can buy a kit that seals your oven shelves in a bag overnight and removes all of the dried on waste easily. Remember: Your guests will want a spotless oven, so make the effort to make it look nice. (However, take care as these use dangerous chemicals).
Cooker Hood: If you have an extractor fan or similar, ensure these are regularly cleaned. Soapy hot water will do the job, or something stronger like WD40 (in the UK) to eat through the greece. Remember, these are very visible things in your kitchen, so they need to look good.
Cups, plates, bowels etc: Either buy cheap, and replace them regularly, or if (especially tea cups) are heavily soiled, these can be cleaned by soaking in bleach for half an hour.
Floor, worktops, hard-to-reach areas: Remove the boards below the kitchen units and vacuum behind to remove any dust. Ensure you carefully clean the floor appropriate to the surface. Wash down worktops with hot soapy water until they're spotlessly clean.
If you go to the effort of doing all of these things, your guests will notice. Your kitchen will feel cleaner, and look cleaner and this will ensure you get better reviews.
In the meantime, why not check out these articles:
How to Make More Money with your Short Term Rental
How to Get More Bookings on Booking.com
Related Questions
Where can I get inspiration for decorating my property?
Pinterest has thousands of ideas for interior design. Well worth checking out.
Look on Booking.com, Airbnb, etc and other websites for inspiration of how others decorate their property, but also stick to your own taste don't try and be something that you're not!
I'm on a tight budget, what can I do?
There are many websites where you can acquire other people's unwanted furniture for free or next to nothing. Freecycle or Gumtree are two examples.
Look in charity or antique shops. An antique coffee table, for example, can not only complement a freshly decorated space but make it look extremely classy!
Learn how to do the painting and decorating yourself. Every property needs to be painted at least every two years, and if you acquire this as a skill you will have yourself a ton of money!
See related content: