I have been a short-term rental/Airbnb host for about eight years. When covid hit, I thought my business would be toast, as the cancellations rolled in thick and fast. Actually, it was one of the best things to have happened, because I started getting long-term bookings (3 months+).
So how did I achieve this (all apartments rented throughout Covid). The simple answer is because I had a list of very good reviews from Airbnb, booking.com, and TripAdvisor, people called me! Yes, you heard that right! There are many accommodation agencies that book long-term accommodation for their clients (in this case insurance, doctors, and people heading back to the UK). They don't have big databases of serviced-apartment providers, so how do they find accommodation partners? Simple: booking.com, Expedia and Airbnb. They haven't got time to do a massive amount of due diligence, so they'll simply call those providers that have a brand (and website and phone number) and a ton of good reviews.
So, let's dig into this a bit further, and before I dive into the detail of how to get long-term bookings, let me explain why they are important: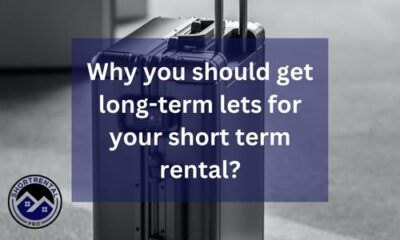 1. Why you should aim for Long Term Bookings for your Short Term Rental?
Short Term Price for Long term rentals. Typically, if I rented one of my apartments via a high-street letting agency, I might rent it for $2000. Rented month by month, I am able to achieve $5-6000 per month.
Greatly reduced hassle. I used to have 20-30 different bookings per month. Each booking would mean cleaning, administration, question answering, deposit taking, etc. Imagine reducing those 20-30 bookings to just 2 across 2 properties. Essentially all you have to do is send an invoice every month, and clean twice a month.
Less Cleaning. This deserves its own bullet point! If you look back at your expenditure on a monthly basis, I would bet you spend at least $1000 per unit on cleaning. Maybe much more. Paying for a quick vacuum, bed change and kitchen cleaning is 2-3 hours of work, twice a month. Less cleaning = vastly increased profits.
Airbnb is promoting this: Airbnb is now firmly behind this concept. You can specifically book Airbnb long-term stays through the platform by booking Airbnb monthly stays. But, this isn't really where the money is.
Lower Risk: Airbnb, now specifically bills into the algorithm an anti-party feature, meaning that they are trying to reduce parties at Airbnbs. Long-term rentals significantly, reduce the risk of. No one has a 30-day party!
Long states do not mean lower rates: the type of people who book long stays tend to be businesses where the actual price point is of less significance to, for example, the leisure market.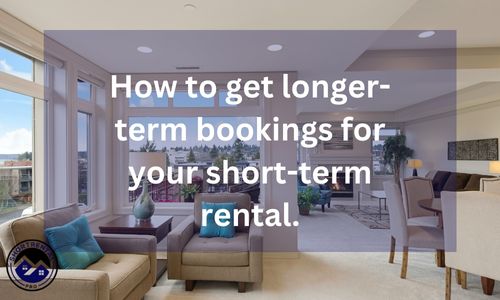 2. How to get longer-term bookings for your short-term rental?
A. Visibility
You must be completely visible as a property of choice in your local market. Whoever is making the search for a long-term stay, be it a guest themselves, or someone else making the booking, you need to show up on Google.
Here are some basic ideas about showing your visibility, which I will expand on later in the article:
Google Maps search, specifically Google my business. What does this mean? A Google business profile is simply a listing on Google Maps where you have registered your business name, location, and the map reference point. This is really important because this gives Internet searches your businesses profile so that they can go to your website.
Reviews. You must have good reviews. People looking for a place to rent for six months, for example, will base their decision largely on the reviews that you have. If you have 10 level three or four reviews, you might have people booking from Airbnb or Booking.com, but this isn't enough trust for people who want to stay for a long time. However, if you have 100+9 out of 10 reviews, this equals a very of trust, meaning that someone is far more likely to make a booking with you.
Availability: it's very important that if someone is going to book your short-term rental via an online travel agency, you need to have availability showing for this period of time. Using a channel manager can mean you leave one property (or indeed one space on your channel management platform ) just for long-term bookings. Now, this may mean having to short-term bookings, and clearly, this isn't ideal, however, if someone calls me and wants to book out my apartments for six months, I certainly am not going to let a couple of two-night stays interrupt that. what I'm talking about here, is overbooking, and this is common practice with airlines, and indeed hotels, so in order to maximize your revenue, you can do this as well
B. Reviews.
I wrote in the previous section about reviews, and I'd like to expand on this here. Reviews are much more powerful when they come from multiple sources. Think about when you're using Trustpilot. A company may well have a lot of reviews on trust pilot, however, if they have poor reviews elsewhere, then that begs the question are the reviews on Trustpilot accurate?
An ideal situation is to have reviews on Airbnb, Booking.com, hotels.com, Expedia, TripAdvisor, and indeed Google reviews. The massive benefit of having these reviews is that they will be combined in your Google business listing, so the reader can easily see reviews from all different sources.
I'll talk in a minute about your own website, but one of the very clever tools out there, it's a tool called Repuso, which enables you to show your reviews on your own website in an elegant and persuasive way.
Finally, on reviews, it's very important that you respond to reviews. It shows your audience that you are sincere about the feedback you get from guests, and it also shows that you're active and engaged with your community.
C. Serviced apartment agencies.
Serviced apartment agencies are a relatively new phenomenon, and enable you to position yourself as a high-end provider of longer-term rental service to commendation. You only have to run a Google search and you will find many agencies that you can register with in your area. In 2022, so far, the vast majority of my bookings, come from serviced apartment agencies, and the price is often higher than if I were to take a booking from Airbnb or other online travel agencies.
D. Insurance companies.
Insurance companies have departments that deal with relocations, in the event that someone's house is damaged and requires extensive ongoing repairs that are likely to last weeks or months. You only have to do a bit of digging on LinkedIn or just call them and register as a supplier of long-term rental accommodation.
They will like the fact that you reach out to them directly as if they have to go through a middleman (a service apartment agent) they would have to pay additional commission.
E. your own website.
This is often overlooked by Airbnb or short-term rental business owners. It's a brilliant way to present a professional 'shop window' to your prospective guests, and it establishes credibility and trust. In 2022, it's extremely easy to get a great-looking website up on the internet, and if you're using a channel manager it's also pretty straightforward to integrate with their systems so you can actually run searches for availability on your website.
F. Pricing Strategy
This is a relatively simple element of the process and mainly applies to online travel bookings. Put simply, your price for a long-term booking should be substantially cheaper than a three-night stay. But, this does not mean you reduce your prices dramatically. Instead, go the other way – increase your prices for shorter stays, and then gradually taper down the prices for longer stays. This is very easy to do on Airbnb, Expedia, and booking.com and even easier if you have a channel manager, as this will do the heavy lifting for you and ensure your prices are consistent across all platforms.
G. Availability
I touched on this earlier, but you'll never get long-term bookings if they are not available on your website. It's true that there are restrictions on the length of stay bookable on many OTAs, but this should not be the case on your own website.
A good idea is to implement an over-booking strategy. This means if you have 4 units, you advertise for 5 or even 6, and reserve the 5th and 6th for longer stays. It's true, this may mean you have to cancel future short bookings, but this is much easier to do than many might think, and you have to keep in mind that ultimately you are running a business, to maximize your revenue.
H. Longer-Term Amenities
Long-term guests do require up-rated amenities than very short-term stays. Things to think about include:
Parking. Private parking is a must for longer-term stays, and if you make this prominent in your profile, or even include your parking space as a picture, this will dramatically encourage people to book, especially in areas where parking is scarce.
Laundry: Long-term bookings will absolutely need a fully functioning washing machine and dryer.
Similarly, long-term stays will need more kitchen equipment, as your place effectively becomes someone's home for the duration of their stay.
Internet: This is probably one of the most important things to think about. In the era of working from home, and indeed in the Netflix era, a fast internet connection is an absolute must-have. I have 200Mps access in all of my properties and this is often commented upon.
I hope you have found this article both useful and interesting. If I've missed something, please feel free to add this in the comments below or send me a message here. Good luck with your long stays. This is the future (in my view) for the short-term rental industry. It means more money and less stress, and who doesn't want that?