In over three years of letting out apartments on Airbnb, Booking.com, and many other websites, I have realized that there are a ton of opportunities to increase your revenue while still presenting yourself in an honest, ethical, and professional way to your customers.
The real truth is that the best guests are the ones that pay the highest prices and are prepared to pay for additional services (in my view). They appreciate quality, look after your place, wash up after themselves, and would not dream of leaving your place in a mess.
The worst guests tend to be the ones that book the lowest prices (and guess what – they often make the most complaints). What do I mean by best guests? The ones that leave your place the tidiest and the ones who write you brilliant reviews, and of course pay you the most.

Now let's discuss some real, specific, actionable things you can do, very quickly to make (much) more money from your rental. I've used and continue to use all of these techniques myself and they add 30-50% more revenue, and most of it is commission free! 
Article Contents
Making more money from your Short-Term Let.
1. Pricing – think as a guest
When you consider your pricing strategy, ask yourself the following questions:
Why are guests booking an apartment (or house) rather than a hotel? Is it to save money (Usually no).
If guests are booking an apartment because it's better value than booking two or more hotel rooms, are you charging enough? (usually no).
Pricing your holiday rental / short-term let correctly can make a huge impact on your overall earnings. Here are my key points for pricing success:
Make absolutely sure you are using occupancy-based pricing. (This means you charge according to the number of people staying).
Make sure that guests understand that your pricing is based on two people sharing one (double or king-sized bed). Now in truth, the OTAs (Online Travel Agencies) make this hard to do. For example, if you have two bedrooms, and two people book, are they a couple sharing one bedroom? or are they two sisters (for instance) who would prefer two different beds? Unfortunately, the OTAs have no way of selecting either scenario as an option. Here, I'm afraid you have to be firm. If you have a booking for two people, yet they use two bedrooms, this means twice the cleaning and laundry, so you have every right to charge for it.
Make sure that your pricing for 3 or 4 people (again assuming the use of two bedrooms) is sufficiently higher than charging for one bedroom. I used to charge only £20 / $25 for the use of the extra room and in fact, this is crazy. To book an extra room in the cheapest of hotels you would be hard-pressed to find this for £50 / $65. So I increased the price for a second bedroom by £50 / $65 – and guess what? – this had no impact on bookings whatsoever.
So put simply, my charge for one bedroom for one night is £100, for two bedrooms for one night it's £150, etc.
2. Look at opportunities for extra beds.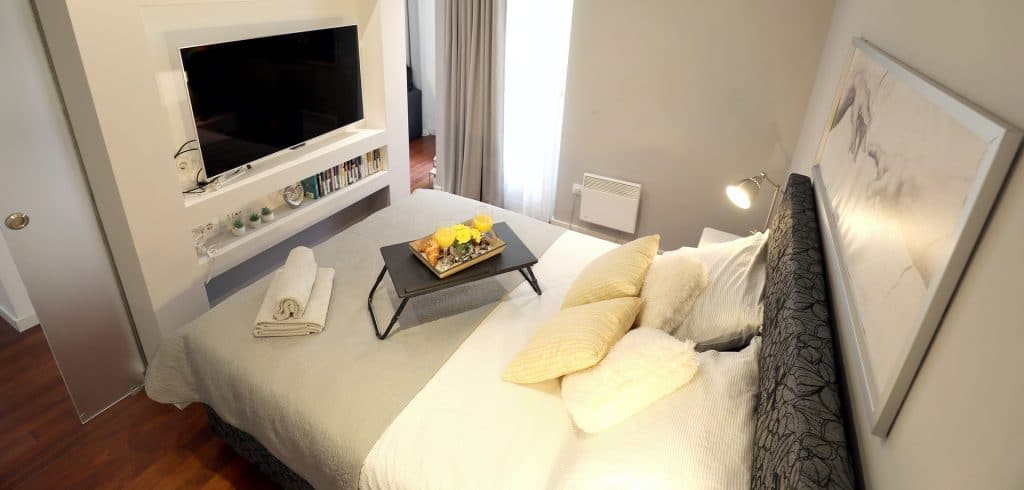 A sofa bed = another $50/night
My apartments generally have two bedrooms, however in order to max out capacity and cater to families who have more than 2 children (for example) I have sofa beds in all living rooms, and even use futons or airbeds in the main living area. This again adds an extra £50 per night in revenue.
I have never, ever had a complaint about people sleeping in the living room, because the sofa beds are comfortable and easy to put away. In fact for specific types of groups, for example, pre-wedding groups, being able to accommodate up to 8 people is a massive selling point. (However, make sure you charge wedding parties a big deposit – as they tend to be on a high and not thinking about how they leave your property! A £250 will make them think about this!).
3. Offer Long Stay Discounts
In an ideal world, you really want guests who will stay for 5 to 7 days or even longer, preferably with four people in the accommodation.
Why? For the simple reason that it dramatically reduces your cleaning bill. If you have a new guest every day for seven days that's seven cleans, and if you have one guest stay seven days it's still only one clean. Seven cleans @ £30 per clean = £210 – i.e. a lot!
Whether you use a channel manager or use Airbnb, booking.com or Expedia direct they all have facilities to allow you to specify discounts for longer stays. 
Don't get penalized by the OTAs for having different pricing on different websites
One point to note is that you've got to make absolutely sure that your prices will be the same on the leading online travel agencies because if they are different, they will both penalize you.
(OTAs regularly compare the prices for your property on the different websites and if you're selling cheaper on Expedia, for example, then booking.com will be upset, and vice versa. And, just to make things more complicated, if you're selling your property with higher prices on one website they will also be upset because this makes them feel noncompetitive. So again, you must make sure your prices are identical on all the leading OTAs.)
How to do this? Just play around with the system, get familiar with the different discounting systems, and then check and double-check. The good news though is both Expedia and booking.com will tell you if you're charging different rates (you can also run a price comparison on TripAdvisor).
4. Make sure your pricing is seasonally adjusted
Price Summer & Christmas high, and aim for long bookings in the fall and spring
This may seem like an obvious point, but it's extremely important to make sure that your prices are seasonally adjusted, and you need to think about this in advance.  And what I'm really talking about is charging more in peak seasons.
You need to think at least a year in advance about this, otherwise, guests will end up booking (at Christmas for example) at half the price you could have charged.
So for example, if you're only in March, and you're probably not thinking about December yet, but you can be assured that there are many people looking to book accommodation for December (for example) as they will be planning trips to visit family, etc. So as this is a peak time for short-term rental businesses, and you must ensure your prices reflect this.
I have lost money in the past by forgetting to increase my prices in peak seasons.
This is a major factor in increasing your revenue. For most markets, the summer and Christmas will be peak seasons, and don't hesitate to charge 20 to 30% more for these times of the year.
Another tip here is to make sure that Christmas Day, boxing day, New Year's Eve, and New Year's Day, all have minimum stays of at least two days. I don't know about you, but I don't want to do the cleaning on Christmas day or New Year's Day, and neither will your cleaner. Also, if like me you pay your cleaner double-time on these days, by not having to have them work at these times you will avoid having to pay extra.
5. Don't give away things for free
Charge for early-check-in/checkout, coffee, and special requests
This sounds really simple and is often something we don't do out of fear that the guest will write a bad review or in some way become upset, but every time I've stayed in a hotel and asked for a late checkout, I've had to pay for it. The same goes for early check-ins.
Why give it away for free? You don't have to charge huge amounts for this, but if you can cater to these requests, why not charge for it? An extra £20 / $25 Will probably pay your OTA commission for the booking.
Similarly, if you offer things like Nespresso coffee, then offer your guests two or three capsules for free, but then make it clear that subsequent capsules used will be charged upon checkout.
You may also like to consider offering guests clothes washing pods at a cost. The one thing you shouldn't charge for is dishwasher tablets because if the guests use the dishwasher this saves you a job when turning around the apartment for the next guests.
6. Offer a mini-bar
Why do hotels have mini-bars? Because people use them and don't mind paying double the price. You can do the same.
A minibar is a great idea for guests, particularly on a one or two-night stay, and this is a great opportunity for you to make more money. You can easily have wine delivered to you, and then charge a premium price for its consumption. For example, if you buy a bottle of wine for £6 you can sell it to the guest for at least £12 and probably more for the convenience of it being there.
They have nothing to complain about as it's entirely their choice as to whether they use the wine in your minibar or go to the shops. You can also do this with beer, soft drinks, bags of nuts, etc; really anything that is not perishable and will not go off.
The only downside to this is administration and keeping track of what's been consumed and then charging your guest for it, but that's really not that hard to do.
7. Direct Bookings
Direct Bookings Reduce Commission Paid to OTAs
Direct bookings can be one of your biggest wins in maximizing profits. You can read my post about getting more direct bookings here. The OTAs charge huge commissions, and by having guest book directly with you, you completely cut out that commission which means immediately 20% more in revenue.
All you need is a telephone number and a website (But Most Airbnbs don't have one!)
All you need to do is be available to answer the telephone, and ideally, have a website to showcase your property. If you can't answer the telephone, consider a call answering service.
I can help you with people who can put together a website extremely cheaply that guests can book on and is linked to your booking system. Just contact me via the contact page.
Meet and Greet your guests to convert them to direct bookers
Also, if at all possible, it's great to meet your guests in person. I live 5000 miles away from my short-term rentals, but whenever I'm at home I try to meet guests and specifically say that I will offer a better rate if they book direct. I now have probably 20+ guests who book regularly, and I don't even have to pay credit card fees as they transfer directly into my bank account. Ideal!
(Believe it or not, most guests have no idea of the commission we mat to OTAs so they don't even think to book direct).
8. Airport Chauffeur Transfer
Guests like more service variety
We have many guests who stay at our properties from all around the world (we're based in UK) and being able to offer an airport transfer service is a great add-on revenue stream.
Airport transfers make you look more high end
It also helps with offering a high-quality seamless guest experience and to position your property at the higher end and therefore higher price. If you know a local airport chauffeur, you can come to an agreement with him or her for referrals.
9. Charge for Additional Cleaning
We make it extremely clear in our pre-arrival information that we expect the apartments to be left in a clean and tidy condition. Now there are some groups in particular who are prone to leaving properties in a mess.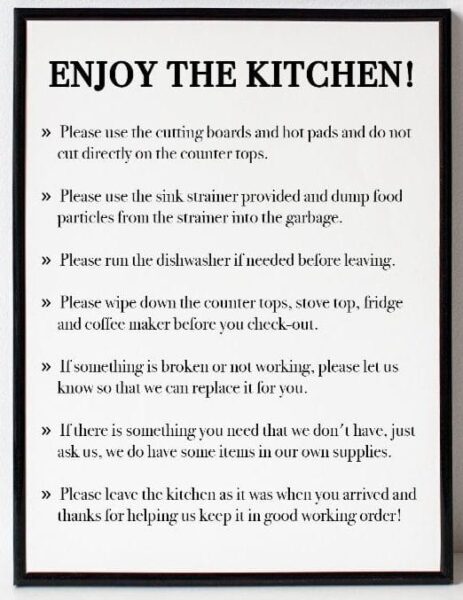 Charge Wedding Groups & New Years Guests a (very) large deposit
I have had terrible experiences after New Year's Eve Guest stays and also after pre-wedding guests stay when they'll be flowers, suit carriers, and all sorts of other unusual things left on the property.
People like direction. Certainly much more than no direction. Be direct – it will have no impact on your reviews.
As long as you make it very clear what your expectations are and be honest and upfront about additional cleaning costs, then don't hesitate to charge for it.
Again, as in any business, you can't let yourself be ruled by fear, and in particular in this sort of business fear of bad reviews. And even if you did have a bad review because you charged additional money for cleaning, this may well have a positive impact on future bookings, because potential guests know that they are required to keep the property clean.
10. Fill Every Unsold Night
This is really important: make sure every night is filled, even if you have to reduce your prices dramatically. As long as you're making more money than it costs to have the property cleaned, then you're winning.
Think of it like this: let's say you have 20 nights in the year which are vacant. The revenue from those 20 nights is 0 pounds/dollars. Even if you charge only £60, and the cleaning is £30, that's still an extra £30 pounds you've made. Now multiply that £30 by 20 and you have an extra £600. This could easily pay for refurbishments, or other costs in the business, or a long weekend in Venice!
11. Ignore Airbnb Pricing Tips
Although I do still use Airbnb for some of my bookings, I must say that I find their pricing tips to be hugely inaccurate. They don't tend to reflect the quality of my property, and they always encourage me to decrease my prices (I don't), and I've never had a problem filling my apartments.
This is clearly only my opinion, and I'm sure some people may think otherwise, but nevertheless, this is my experience. I think there are better ways to be price-conscious than to rely on the data from any of the online booking websites.
12. Don't use Management Companies or a Property Manager
Property Management companies do very little for you, just want to manage lots of units, and take a hefty % of your profits.
Unless you really have to, the great thing about managing a short-term apartment rental service is, if you use good software, you have a great cleaner to help look after your properties, and you have other tools like a key box, then there is no need at all to use a third-party property management company.
They are a bit like rental agencies who charge for a "fully managed" let when all that actually means is that when something breaks they phone up a plumber or another tradesman and then send you the bill. But, they charge you a massive amount more to do this.
So when you're running your own short-term rental, avoid companies like this because they will eat into a big chunk of your profits.
13. Target Business Travelers
Business travelers account for a huge chunk of our bookings, especially in the non-peak season. They tend to make more repeat bookings and leave much less mess. You can read my post all about attracting business travelers and providing them with great service here.
I hope that you found this article useful. This is by no means an exhaustive list, and if you have further comments or suggestions, please do comment in the box below. Equally, if there's anything I've said that you have another opinion on, then I'd love to hear it!
14. You might also be interested in:
How to create a winning Airbnb let that guests will love
15. Industry Resources
fastcompany.com – Secrets Of Running A Six-Figure Airbnb Business
cnbc.com – 82% of people think Airbnb-ing their home is a good money-making strategy