One of the reasons I prefer booking.com to Airbnb is the huge amount of tools they provide you to help you sell more nights at your property. In this article, I would like to address the specific question of how to rank higher on booking.com's search results page and include my own experiences of achieving this.
Let's start with a visual image of a search in Maidstone (UK) for one of my properties. Yes – it's at the very top of the page. Let's analyze this and then dive into the detail of how I achieved this: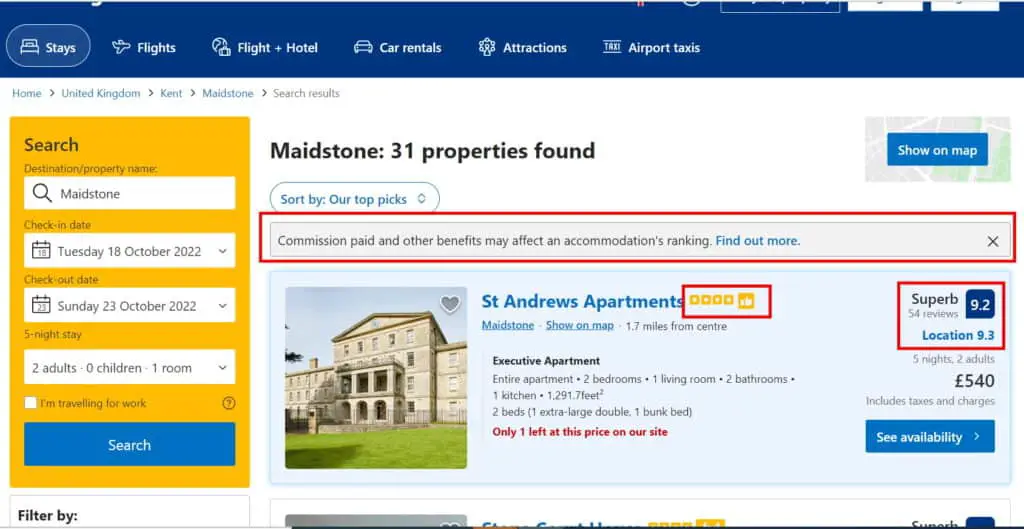 Booking.com Ranking Items in the picture to take note of:
1. Pricing
You will see in this search that my price point is set appropriately to rank higher for the 'slower' season. There are many other properties that are priced much more highly. As I have more than one apartment at this property I can afford to be more reasonable with the price. Consequently, all of my apartments are almost always booked.
2. The Four Stars
This won't happen overnight, you have to earn this, but the four stars just to the right of "St Andrews Apartments" indicate that booking.com see my property overall of being worthy of "4* status". This is achieved through consistently good reviews which I will come on to.
3. Reviews = Booking.com Ranking
You will notice that I have 54 reviews averaging 9.2 out of 10. In fact, this is considerably fewer reviews than I used to have. I used to have above 300, but because I changed to a serviced accommodation model during Covid, these reviews have disappeared as they only stay on the page for 2 years, however, booking.com have increased the time reviews stay on the sight to 3 years (see image below) because of Covid. (Further information from booking.com about the guest review process can be found here).

For me, there are two takeaways from this:
Booking.com is actively trying to help their property partners ("hosts")
It's not difficult to get to 51 reviews, and therefore someone just starting off with booking.com does not have an uphill battle to climb
4. Preferred Partner Status = higher rankings
Preferred Partner status criteria are set on the booking.com extranet. However as with all rules, these are not set in stone, and it is well worth applying for it if you have credibility on booking.com and you feel you deserve it. When I applied, I did not meet the criteria but was still awarded it.
Booking.com themselves state specifically that the preferred partner status is something that "gives eater visibility to the top 30% of our partners." (Further info here🙂 In other words, it makes it easier for you to rank higher on booking.com.

5. Visibility Booster = higher rankings
You might notice that just above my listing, booking.com states that "Commission paid and other benefits may affect an accommodation's ranking". They are completely honest about this, and this gives you an opportunity to rank higher my paying more commission.
To adjust this, look for the visibility booster on the extranet. Here's an image of it: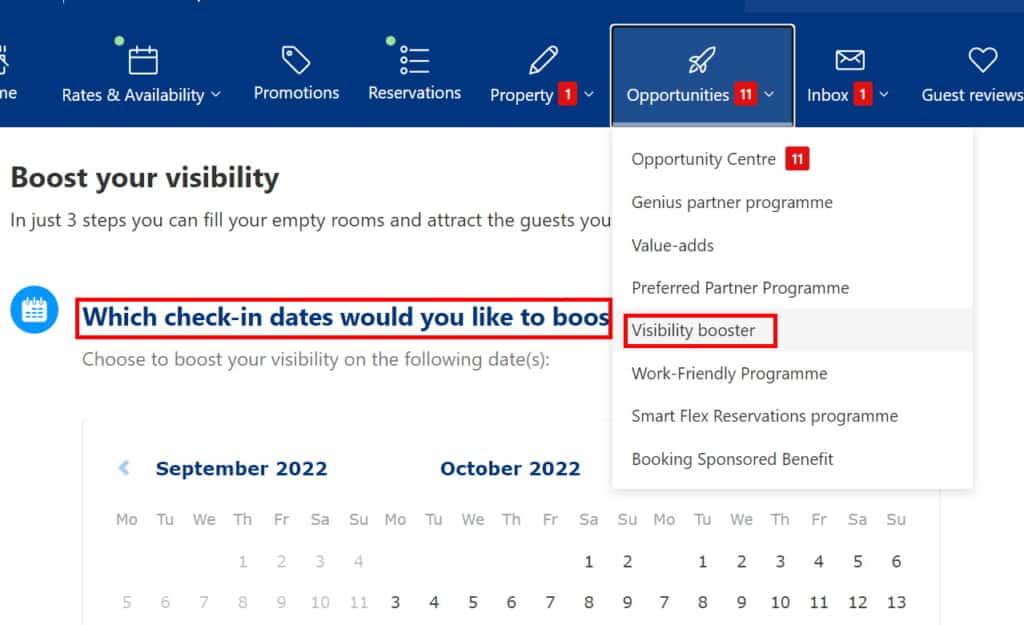 Other Tools to Help you Rank higher
Booking.com encourages you to use its own tools to help you do well on its site. These will be particularly helpful when starting off, and when you're an established host looking for more bookings. Here is a summary of their top tools, most of which you can find in the "opportunities" tab on the extranet as below:

1. Visibility Booster
Already mentioned. Great tool. More bookings in exchange for a bit more commission.
2. Smart-Flex Reservations
This enables you to allow bookings to become semi-flexible. It's a great deal. Booking.com will replace the reservation if the guest cancels. Total win-win.
3. The Genius Programme
Just like Hotel.com's membership program, the Genius program rewards guests with discounts at genius-listed properties and likewise rewards properties with a higher ranking on booking.com. Note not all of your rooms have to offer the genius discount.
4. Preferred Partner Programme
Already mentioned. Join if you can!
5. Photo Scores
Booking.com scores all of your photos for quality. The better your photos – the higher you rank. After all they want to be showcasing quality properties. It's worth having professional photos taken.
6. Your profile and Amenities
Fill out absolutely everything here. Guests buy features and benefits. Also if you have a particular feature, highlight it in a photo.
7. Promotions
Booking.com absolutely loves you using their promotions. It ranks you higher, and also might mean booking.com promotes you in their own advertising. There are a whole host of promotions (many are self-explanatory so I won't comment on each one) you can run, including:
A Late Deal Escape
A Getaway Deal
Limited-Time Deal
Mobile Rate – Many people book from a mobile device so it's essential to use this if you want to rank highly on mobile
A Country Rate – useful if you want to target particular countries
Last-Minute Deal – fill your property gaps by using this
Early Booker Deal – (for example) fill up the summer with early non-refundable bookings now
Free First Night Deal – to encourage longer stays (less cleaning = more profit)
Essentially booking.com absolutely loves it when you use their booking tools and deals. I know this as one of their account managers told me that this directly impacts your booking.com ranking!
Further Reading