As an Airbnb host, providing a clean space is priority number one. Any hint of dirt or grime, and it will be immediately off-putting for your guests. In this post, we'll explore the key expectations guests have for cleanliness in an Airbnb and offer tips and suggestions for how to meet those expectations.
I. Cleanliness Standards
What the guests expect: Guests expect a space that is free from dirt, dust, and grime, and that has been thoroughly cleaned between each stay. This includes surfaces, floors, linens, and bathrooms. This also includes inside cupboards and spaces that guests are not supposed to look in (but they will anyway) – things like your boiler cupboard, and your washing machine draw [run a washing machine deep clean every month or so too].
How to meet expectations: Develop a thorough cleaning checklist to make sure that each area of your property is cleaned thoroughly, and use high-quality cleaning products to ensure a spotless finish. Consider hiring a professional cleaning service if needed, but also check things when they've been cleaned. Twice, at least. Even with my best cleaners, there are always one or two things that are missed.
II. Linens and Laundry
What the guests expect: Obviously fresh linens and towels are a must for guests. They expect bed linens to be clean and free from any stains or odors, and towels to be fluffy and free from any signs of wear or tear. Note, if you use mattress protectors, these will discolor over time, so ensure these are deep cleaned on a regular basis.
How to meet expectations: Wash linens and towels after each stay and consider investing in high-quality linens and towels to enhance the guest experience. Offer extra pillows, blankets, and towels if you can, to show your guests that you care about their comfort.
But, avoid buying linen and bedding that needs to be ironed, because ironing something this size is a nightmare. There are plenty of pleated alternatives to this, for example in the image below: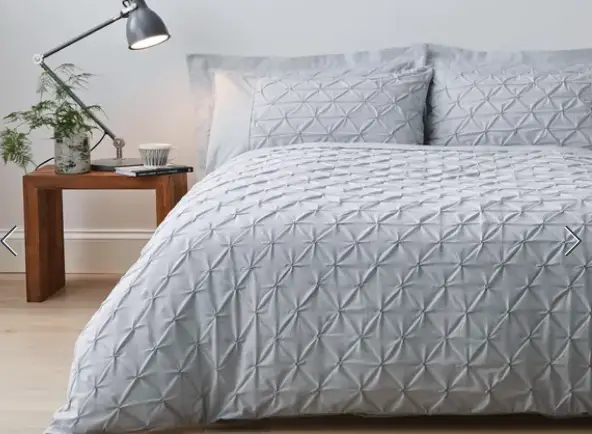 III. Bathroom Cleanliness
What guests expect: A clean and well-stocked bathroom is a top priority for guests. They expect the toilet, sink, and shower to be spotless and free from any mold or mildew, and depending on how you position your property they may expect there to be enough toiletries provided too.
How to meet expectations: Clean the bathroom thoroughly after each stay and make sure it is well-stocked with essentials such as toilet paper, soap, and shampoo. Consider providing a basket or shelf with extra toiletries for guests who may have forgotten something.
Essential points to note: it should smell clean, the toilet should have that blue cleaning liquid in it to demonstrate it is clean, the shower door should be spotless, and any chrome fixtures (showers/taps etc) should be wiped clean of any water residue.
IV. Kitchen Cleanliness
What guests expect: For those who plan to cook during their stay, a clean kitchen is essential. Guests expect a kitchen that is free from grease and grime, with a well-stocked pantry and fridge.
How to meet expectations: Clean the kitchen thoroughly after each stay, paying close attention to the stove, oven, and countertops. Make sure the pantry and fridge are well-stocked, and provide basic spices and oils for guests to use.
A top tip for keeping the oven clean is to buy a kit that contains a cleaning bag and fluid that you can leave overnight (and then dispose of the fluid safely).
Conclusion: Meeting guests' expectations for cleanliness in your Airbnb is crucial to providing a positive experience. By following the tips and suggestions outlined in this post, you can ensure that your guests feel comfortable and at home in your space. Remember to be responsive to guests' feedback and make any necessary improvements to your cleaning routine as needed.
Finally, manage guests' expectations beforehand regarding what you do and don't stock. If you provide toiletries then post a photo in your listing; likewise, photograph exactly what you do provide in your kitchen.
Further reading: