I've been running Airbnbs now for 5 years. I've had a lot of success but also a number of challenges along the way. This post is designed for someone who is thinking of buying a property for renting on Airbnb with all of the things I wish I'd known before I started!
Key points to know before buying a short-term rental property: Get some Airbnb experience first. Be extremely careful about the build quality – especially with new builds. Think carefully about seasonality, location, your customers, and costs. And finally, do your due diligence on laws, tax requirements, and any lease requirements super carefully.
This is just a summary. Let me now dive into the detail of all the things you need to think about before buying a property for Airbnb or short-term rental and there's more to think of than is obvious, so read on!
Construction Quality
Construction quality is probably one of the most important things to think about. Remember: You're not buying a property to live in, you're buying a property that 100s and 100s of people will stay in.
You have to remember that unfortunately, the reality is that people who will stay at your property won't treat it like your own home. They just won't, so the build quality needs to be good, and, where I live, new build properties often are built of poor quality materials that wear easily.
For example, in one of the properties I own, the bathroom has caused constant problems: The bathroom walls were built of plasterboard when they should have been built with aqua panels (see picture below). The toilet was not sealed, it was made with a push-fit join and therefore leaked all over the bathroom floor.
So guess what? On the 1st January, I discovered that my whole bathroom had to be ripped out. A costly experience that also, of course, reduced the nights I could sell!
This is what the bathroom should have been made with:
Here are some quick tips to ensure that you're not buying a problem:
How to check if you're buying a well-built Airbnb apartment
Inspect the property very thoroughly for obvious defects.
In particular, check the hot water cylinder (in new builds these tend to last for 15 years only). Are there signs of water leakage?
Check the bathrooms: If you can remove the bath panel and see what's behind the bath. Is there evidence of water leaks?
Check the shower. Is there any evidence of cracks in the grouting and silicone? This could be a sign of further problems.
Turn the shower on. See if it turns on easily. A Stiff handle may be a sign of a problem.
Check behind toilets for any evidence of leaking.
Check under the kitchen sink. Does the plumbing look good or not?
Check the boiler and heating controls. Does the boiler turn on or off easily? Does it reset quickly? Take note of the boiler brand and Google it. Some boilers are notorious for problems. (A further note on boilers is that there should be access panels to check the flues and make sure you pass your annual gas safety inspection – in the UK).
If you can take a builder with you to check all of these things then do!
Ask other residents – just knock on their doors and ask them what their experience has been of the apartments. I've done this many times and most people will be more than happy to tell you.
Above all – trust your instincts
Avoid Period Conversions
Old buildings converted into flats are notorious for problems. The building owner is obviously not going to live there, so their priority is to convert the building as quickly and cheaply as possible to turn a fast profit.
The buildings will generally look fantastic, but you can bet your life that corners will be cut everywhere on build quality. (Source: 25+ people who live in one of my apartment buildings!)
Stay in other Airbnbs
This sounds like an obvious point, but staying in other Airbnbs – especially where you get to meet the hosts is an excellent opportunity to ask about the challenges they've had and to ask about specific issues such as maintenance problems and how they've addressed them.
In my Airbnb journey, I've picked up 100s of tips about property maintenance just because I've had to be interested, so pick everyone's brains you can. Of course, by staying at a handful of Airbnbs, you'll also get a feel for how others deal with check-ins, what amenities they offer, and how they deal with challenging guests. So it's worth doing.
Location & Seasonality
Location is something you really have to use your common sense over. When I started, no one thought the business would take off, but actually, we're full almost every night, so sometimes location can be counter-intuitive.
Some tips I have picked up include:
Make sure your location caters to all seasons. (I.e. a blend of holiday and business travelers – read my post about that here so you can avoid seasonal dips.
It makes sense to be in a location that has a relatively large population (the town most of my properties are in has a population of 100,000+) as this will attract people visiting relatives etc.
It also makes sense to be in a town that has ample business and industrial estates nearby to attract business travelers.
Finally, are there enough hotels nearby? If there are, you can count on the fact that they're there for a reason – i.e. there is a market that you can have a slice of. If there are none, then that's a red flag.
Cost Projections
People (including me) hate excel spreadsheets and hate doing their tax returns, but this really is shooting yourself in the foot if you don't do this. We have a free excel sheet here that calculates every aspect of your short-term rental costs.
The biggest tip I would give you is that you don't want to buy a property that's too big. You want a property that's versatile: What do I mean? Well put simply, if you have an apartment with two bedrooms, if you put a sofa bed in the living room, this is then suitable for 6 people and then you can benefit from the more lucrative "high season" periods with groups of families, etc. If you buy somewhere that's too big and has 4 bedrooms, the mortgage and council tax will cost you a lot more, and you'll struggle to make a profit on cheaper one or two-person stays.
That said if you're in an ultra-prime location that might attract guests years round (i.e. Thailand, or anywhere warm) then you might do well with a larger sized property that you can then charge a lot more for.
Lease Obligations
If you're buying a leasehold property, which most apartments are, then check very carefully for any lease conditions that prohibit short-term lets. The problem is not insurmountable, but it may cause you difficulties, so it's well worth checking this out.
Leases are long, boring documents, so it will take a while to read, but you must check for commercial prohibition and other relevant matters to your plans. It is worth paying £200-400 to have a lawyer check for this specific point.
Local Laws and Tax requirements
Airbnb is still a relatively new phenomenon, so it's very important to check carefully your tax obligations and any specific local laws.
A simple google search of, for example, "Airbnb Regulations Edinburgh" will give you a lot of information.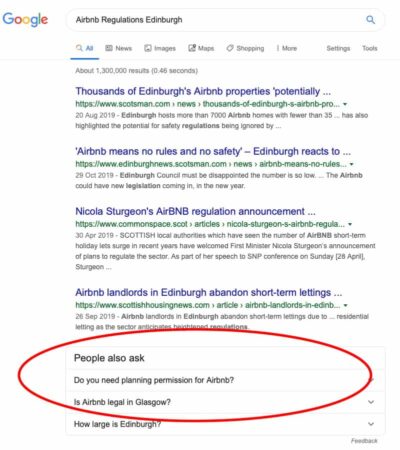 Check out too the "People also ask" section at the bottom to give you further ideas about questions you may need answers to.
Laws will differ from country to country. Sometimes there is city tax to be paid, and sometimes you can pay tax via your annual tax return, but a big one to be aware of in the UK (I'm not a tax advisor but……) is you do not want to go above the £85k VAT threshold. Please also note that I am advised that this threshold is not the net amount payable to you (i.e. minus Airbnb charges) it's based on the amount the customer pays.
All this varies from country to country and even from city to city, so be aware of what your local situation is and if there are any plans for changes in the pipeline.
Market Timing
Whenever you're buying any property, of course, you want to buy at the bottom of the market, not the top. So, as I write this in Jan 2019, where is the market? Is there a recession coming? What impact will Brexit have?
The answer is nobody knows.
However, there are smart things you can do. For example, in the UK you can check out historical sale prices on a website like https://www.zoopla.co.uk/ or check with the land registry.
Other questions to ask before buying your Airbnb pad are – what are interest rates like? Even if prices are higher, but you've found a good buy then why not take advantage of current historically low-interest rates?
Competition
If you run your business well, you do your research, and you have planned financially then a strong element of competition is nothing to be afraid of. If anything it shows that there is a market. However, again, it is worth applying some common sense:
If your Airbnb purchase is to be a bungalow in a village in the Cotswolds with a population of 1000 people and there are already 10 listings there, then I probably would not opt to buy here.
It's also worth keeping in mind that if there are good quality management companies in the city you plan to purchase in, and you are comfortable with a hands-off approach, then you don't have to live near your Airbnb, and actually I know many people who do not.
Conclusion
I hope you found this information useful. If you did, please do feel free to share on social media and if you have any tips or comments, please leave them in the comments section below.