The security of your Airbnb is paramount. You will have so many different guests staying, and even if you check and vet guests to the highest possible standard, you never really know who they are, so taking as much care of the security of your property is extremely important.
This is what I do:
1. Take care of your arrival information
On the one hand, we should produce super-comprehensive arrival information so that your property is as automated as possible (read 15 tips on how to do this here). On the other hand, you need to be careful about who receives your information. I have heard many horror stories about hosts who publish their information on websites, only to find this gets into the public domain. You can't let it. Here are the following tips:
Email arrival information, don't publish it on a website.
For specific things (i.e your house manual) make this a no-indexed Youtube video so people can't search for it online.
Restrict your arrival information to 3-5 days before arrival.
Consider Password Protecting sensitive information.
If you use a Key Box send the code via SMS at the last minute.
2. How to Vet your guests
This is a tricky subject because we have to think about discrimination laws, however, I do the following:
Do they follow the instructions? If people disregard instructions on one thing, they will probably do so on another. This is essential.
If it's a one-night booking on a Friday or a Saturday, insist that a substantial deposit is paid as this could well be a party.
Red flags: If they say they're having a couple of old school friends over; asking too many questions; asking for a discount; last-minute bookers; incomplete profiles. All of these things make me want to check further.
If the guest has no reviews, I call them and ask about their visit. Speaking to people on the phone will give you a very good idea of whether there are "warning signs" or not.
If people don't fill in my arrival information form (online) I follow up and find out more about them – as this is a warning sign.
Above all, use your common sense: As the saying goes "If something doesn't smell right – don't eat it" – In other words, trust your intuition and if you think there might be a problem, delve into it.
3. Are you allowed to video your guests?
The simple answer to this question is yes you are. However, you have to be careful about this (see Airbnb's full article here)

Key things to remember:
On Airbnb, you must disclose that you record or monitor your guests in your house rules.
You must not Video record in sensitive places, i.e a bedroom or a bathroom, or any private spaces.
4. Why would you want to video-record guests at your property?
There are several reasons why you might want to install recording devices:
To ensure that only the number of guests who book actually stay.
To stop a party before it starts. On almost every single listing I read it clearly says "No Parties!" but this rule is often broken and can cause significant upset to your neighbors.
5. What is the best practice for installing surveillance devices?
I would not recommend installing hidden cameras or even visible cameras in common areas of your property. The key use of a camera is on entrances so you can see how frequently people are coming into the property.
Tell guests in advance, that you use a video camera only to monitor entrances to your property and that it does not record sound (it would personally put me off a lot if I thought there was someone spying on my conversations).
Ideally, install security cameras outside of the entrance to your property rather than inside. That way people have a sense of privacy when they're in your property and it's less obtrusive.
6. Don't use Keys
If you want your property to be more secure, avoid the use of keys, which of course can be easily copied.
If you do use keys, use keys that are very hard to copy or require a special code to copy them (but these are expensive). There are many options on the market for "smart locks". I use these and it gives me very useful information combined with cameras as to who is accessing my property.
7. Use Smart Security
Along with smart locks, there is now a whole host of smart home devices that can be put to very good use in an Airbnb scenario. These include:
Remote-controlled thermostats.
Motion detection activated devices (i.e. lights etc)
Motion-activated cameras that use night vision.
We use this device which I picked up at Amazon for about £80.
It's great because it comes with an app that instantly sends a push notification as soon as someone enters the motion sensing area and means I have a video of everyone coming to my lockbox, and from that, you can also have some idea of what sort of people they area.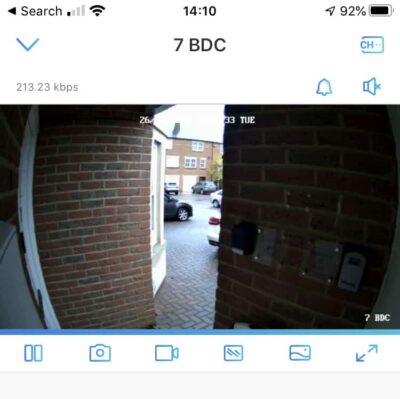 Read more about smart home devices here.
8. If you use a lockbox change the code
I don't recommend electronic lockboxes as they tend to cease up in the winter, however, this means that if you have a manual lockbox you need to change the codes quite often just as a basic security measure. It can be a bit of a fiddle, and I would recommend a manual box as the most professional looking and easiest to use (and change the code).
9. Meet guests
Although it can be a pain to do, there are several reasons including reasons to do with your home security, that make it a good idea to meet guests in person:
If a guest has met you and established a relationship with you, they are far more likely to leave your home in good order.
If you meet guests, you will quickly get an idea of whether or not they may cause problems. If you get this feeling, I always say, "I just need to take a pre-authorization of your credit card" and then use my channel manager app to do this. They then know that you have a security deposit from them which they will lose if they risk losing in the event of any problems.
In addition to security, meeting guests allows you to build a rapport with them, meaning that in case of any problems, these are much more easily dealt with.
Most guests will also appreciate your time and trouble to welcome them, properly and showing them around the apartment. If they put this in their review, this might be a nice point of attraction for potential guests.
10. Charge a deposit
Whichever platform you use, make sure you charge a security deposit. And a pro tip is if there is any likelihood of a party taking place, make it a big deposit. For example, my deposit for new years eve guests is £1000. People can't afford to lose that for bad behavior. And more than anything else, a deposit is a deterrent, I've rarely actually had to use it.
11. Safety Measures to Take
Make sure you have a smoke detector and it's working
Make sure you have a working carbon monoxide detector
Take note that any electrical work (however minor) must be undertaken by a qualified electrician in the UK.
Ensure common sense prevails, and you regularly test all of your electrical and non-electrical equipment where safety could be an issue
Further Questions
Q: Some websites have a tenancy agreement that I and the guests have to sign. Should I do this?
A: No, I think this is probably overkill, but I do recommend getting your guests to fill out a guest registration form that records their details and asks them to comply with your terms and conditions. This could be very important if, for example, people use your internet connection to download illegal content.
This is the form we use: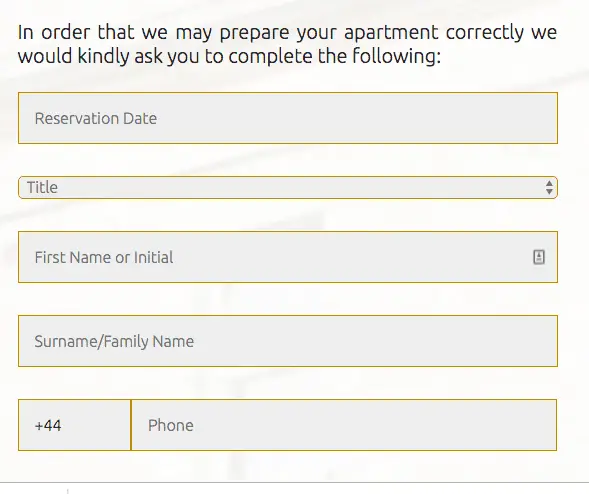 I really hope you found this post useful and it contained actionable tips you can use today. Please do leave any feedback in the comments below, and if you'd be kind enough to share it on social media, I'll be your friend forever 🙂