Instagram is an essential part of the marketing mix for your Airbnb if you want to maximize your earnings. What do I mean by marketing mix? Marketing mix means the combination of social channels, websites, reviews, and general content about your Airbnb on the internet. However, as this and many other articles show, people are moving away from Facebook towards Instagram, and Instagram is a very easy tool to use. It doesn't take much time, and anyone with a smartphone can take Instagram-worthy pictures, boosting your visibility.
The short answer though, on how to show off your Airbnb on Instagram is to use video as this article from Inc.com explains. Video makes Instagram posts much more compelling. You can show what your property is actually like, and they're really easy to take.
In this article, I discuss exactly how to go about promoting your Airbnb on Instagram, and I hope to give you takeaways that you can use immediately.
Instagram is a powerful social media platform with more than 1 billion monthly users. This makes it the perfect social network for holiday sites like Airbnb because it offers a simple way to showcase the unique features of your listing in both picture and video format to the target audience. You can also run targeted ads to attract the right audience for you at a relatively low cost.
The key element to doing well on Instagram is great photos and videos, and the appropriate use of hashtags. Of course, the more followers you have on Instagram, the more people opportunities you give yourself for people to book your property. Are you eager to create a buzz and attract more holidaymakers? This post will discuss how to promote your Airbnb on Instagram.
Introduction
Promoting your Airbnb on Instagram can help you reach a wider audience and attract more bookings. Here are some tips to help you maximize your efforts:
Create a professional-looking Instagram account: Make sure your profile picture and bio accurately represent your property and what you offer. Include information about your location, the type of property you have, and what makes it special.
Use high-quality photos: High-quality photos can help showcase your property and make it more appealing to potential guests. Use natural light and take pictures from different angles to give a complete view of your space.
Post regularly: Consistently posting on Instagram can help you build a following and increase engagement. Aim to post at least once a day, but don't overdo it as too many posts can be overwhelming.
Utilize Instagram's features: Instagram offers a variety of features to help you promote your property, such as Instagram Stories, Instagram Live, and IGTV. Utilize these features to give your followers an inside look at your property and what makes it special.
Collaborate with influencers: Collaborating with influencers in your niche can help you reach a wider audience and gain more followers. Consider partnering with local influencers or travel bloggers to promote your property to their followers.
Run contests and giveaways: Running contests and giveaways can help you engage with your followers and attract new followers. Consider offering a free stay at your property as the prize to encourage engagement.
Use relevant hashtags: Including relevant hashtags in your posts can help you reach a wider audience. Consider using popular travel-related hashtags, as well as local hashtags specific to your location.
By implementing these tips, you can effectively promote your Airbnb on Instagram and reach a wider audience. With a little effort and creativity, you can increase your bookings and grow your business; however, let's dive into this in some more detail:
Detailed strategies to promote your STR listing on Instagram
An Instagram account helps to showcase the amenities of your property and provides inspiration to your visitors. First, you should download the app from Apple/Google and sign up – use a phone number or email address. If you have a personal page, you can set up a page for your business.
The information to include on your profile can include the location of the rental property, a description of the Airbnb, and most importantly a link to your Airbnb website (if you want to include multiple links you can use a product like linkt.ree). Such features will ingeniously promote your property. The short description should be unique and catchy. You can also mention the impressive amenities here. Now, you can introduce your rentals to the audience.
Since Instagram is visual, it's important to make your feed authentic and appealing. You can also select a color vibe that makes your property eye-catching. If you're struggling to choose specific colors, you use editing tools like Adobe (paid) or canva.com (free). The key to doing well is to have an Instagram feed that looks cohesive.
A business Instagram account also offers several features like analytics, intelligence, and call-to-action buttons. You can see an example of these analytics in the screenshot below: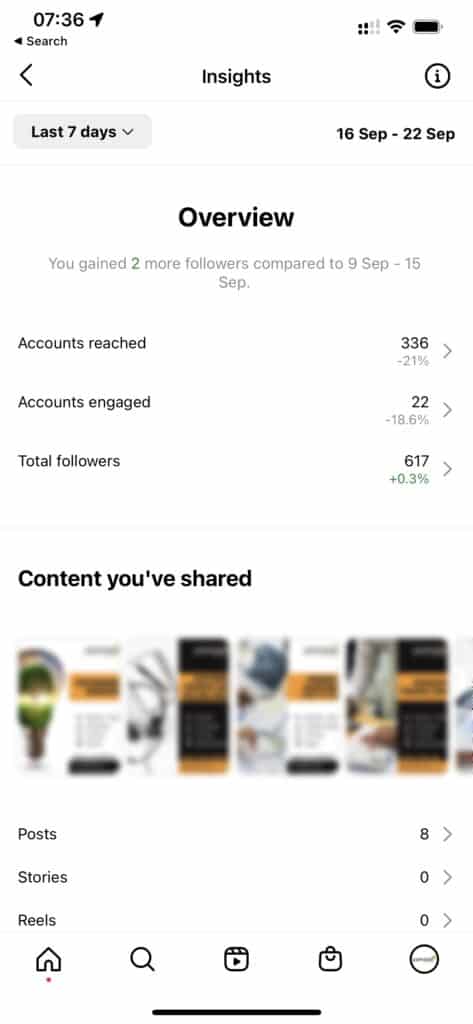 Show-off the neighborhood
As an Airbnb host, you're selling the neighbourhood (especially to tourists) as much as you're selling your property. As you meet friends at your favorite wine bar, take photos with a few comments about why they love it. If there's a bakery around the corner, take photos too. Always think about what would excite your audience. Try to make people in love with the whole setting.
To make your listing diverse, you can share posts about what to do in the area. The goal is to demonstrate the fun in your location. You may also find local businesses to partner with to recommend you. The more traffic you find on your Instagram account, the more guests and bookings you will make. (at least 30% of my guests annually are repeat visitors).
Another approach to demonstrating the value you have to offer is by recommending local shops and restaurants in your area, and Instagram is the perfect way to do this. Since Instagram is a social networking site, you can show recreational activities like hiking trails, surfing spots, and local bars. Don't forget to weave a great story around them which always comes back to why your Airbnb is 'the place to stay'.
Create great Airbnb photos
Even if you don't have a solid understanding of photography, with the quality of cameras on smartphones these days, you can take excellent photos to add to your Instagram feed. Remember people don't actually want pro-quality photos, they want authenticity because authenticity = trust. But if you do feel so included, high-end cameras are not expensive these days, and there are ample Youtube videos that will show the beginner how to take great shots. Here are examples of Instagram Airbnb photos for your inspiration.
The exception to this is photos of your actual property, which I would recommend using a professional photographer for as photos are a very well-known Airbnb ranking factor.
Use Video to Rank Highly on Instagram
There's no getting away from it. People love short-form (usually under a minute) video content. Facebook offers quick swipeable videos, as does Tiktok, Youtube shorts, and of course Instagram. If you think a photo is powerful, videos are 10 times more powerful because they offer a real look at the subject, rather than a photo that could be staged.
Use short-form videos in portrait mode, and add short videos. Here are some ideas:
video of your bed elegantly dressed with a 'sneak' peak into your wonderful ensuite
an ariel video of your property (if you can do this)
a speeded-up video of a walk-through of your whole property
videos of your property highlights (e.g. if you have a new kitchen with nice amenities, make that the subject of the video)
walks in and around your property
views from your property
People relaxing and looking happy in your property
One unique thing about your videos is that you can republish them to your YouTube channel, Facebook, and Tiktok. That way, you can create backlinks to your Airbnb channel – you get more followers.
Do take a portrait video though unless you're going for something longer. If publishing to youtube, make sure they maximum 59 seconds long and add the hashtag #shorts in the description..
Recently, Instagram rolled out a new feature called Reels. This helps users create short unique video clips to show their creative skills. Reels also help to drive more traffic by showing a slightly longer video. It would make sense to try out short videos, longer videos and photos, and then just look at the analytics and see which does best for you.
Upgrade your bio
Instagram allows users to create a short bio and link to the booking portal. The information you include in your bio should be catchy. Does your listing have limited bookings? Be sure to make necessary updates.
You can also add a call to action to invite guests to book your property. Don't forget to add the location of your home rental. Also by using linkt.ree (mentioned above) you can drive traffic to a) your Airbnb listing b) your own website [direct bookings = more money] and c) other areas of 'social proof' such as TripAdvisor. (See this page to get a really neat social proof widget for your own website. It works great and has a no-credit card free trial).
Always update something unique
If you want to attract the right people to your listing, you should update your page regularly. It should be unique and catchy. Other than that, you should entertain your followers with a new post. Who doesn't love humor? You can also link your account to other social media sites. Since Instagram is visual, this can be an opportunity to reach the masses and encourage them to grab the advantage. If you have multiple listings, you can promote them on a single page.
Another way to grab people's attention is to share unique stories. You can share them as a guest or host. How about sharing the wonderful experiences of the previous guests? What stands out amid thousands of posts? You want something that makes your potential guests continue scrolling through.
Here are some examples of images we think would look great:
Follow people in the industry
When you start to gain more followers, always ensure your account follows those in a specific industry. It's also the perfect place to build your brand. Once you connect to people in your industry, you can follow them back. You want to learn the tactics they use to boost their Instagram accounts.
So, how do you grow and engage your audience? You can include `Book Now' in your description. How about running an Instagram campaign using a specific hashtag?
Collaborate with other influencers in the industry
The tourism and real estate industries can boost your Instagram account. Since the traffic is highly targeted, people use them as inspiration for the next trip. For starters, you can search for bloggers with a smaller audience. Micro-influencers charge less and have a better connection with the audience.
Bloggers can also persuade followers to book your property. After all, the majority of travelers plan their trips based on reviews from influencers. Their followers will trust you and book your Airbnb. While this won't boost your Instagram account overnight, it's a surefire way to network.
If you have a cozy cabin, you need professional help to boost your content on Instagram. Perhaps the best approach is to speak with content creators about the pricing and deliverables. It's a win-win situation.
But here is the catch. Working with travel influencers means that you have to meet their accommodations. Plus, you must give them specific dates to come for the visit. After you agree on mutual interest, you can plan on the deliverables ahead of time. If you have a more rigid timeline, it makes sense to hire a professional.
Make your space known
Instagram can be a valuable resource to distribute information about your Airbnb business. The easiest way for vacationers to check for the availability of your website is to use hashtags. It's also the perfect way to attract a wider audience. This tool offers ways to optimize your hashtags flick.tech I've used it and it's helped one of our accounts grow much faster.
Tell a story of your happy guests
If you had a happy couple on your Airbnb, ask them if you can take photos and post them on your Instagram account. If you have guests who stayed in your Airbnb to raise money, share that too.
How about keeping in contact with repeat guests? A guest who previously rented your property knows what you offer. You must maintain a healthy relationship with such clients. Your target guests can also be helpful references to establish new relationships.
Inform about upcoming events
You should keep your followers up to date with current events. Is there something in the neighborhood that can persuade them to stay at your Airbnb? You want to inform guests why they should value the booking.
Use a calendar to ensure you don't miss important events. This will also give enough time for creative production. A better understanding of the visitors that come to your rental property will show how to position your business. A better approach is to do a hashtag search to find out what your guests enjoy exploring. You can also use hashtags to attract families to stay with you.
Time to post
What does an Instagram marketing strategy mean for your business?
Now that you have great content to promote, it's time you establish a regular publishing schedule. The best timeframe is once a day – it's a reasonable benchmark to unlock solid growth. If that is not achievable, you can aim for 2-3 times a week. Although you may not achieve massive growth, this helps to maintain an audience.
There's a caveat to this. Don't post for the sake of posting. If you post poor content, you could end up losing followers. Only post if you have something important to share.
Final thoughts
If you want to increase your Airbnb bookings, you should dedicate a page to your Instagram account. Show the unique features and amenities that make your property stand out. To bring in more guests, you must collaborate with professional content creators. Other than that, you must be consistent with your posting. More Instagram followers mean more people will visualize themselves in your vacation rental.
References
https://www.statista.com/statistics/325587/instagram-global-age-group/
https://www.wikihow.tech/Manage-an-Airbnb-Property
Further Reading