I started my short term rental business on Airbnb as many people do, listing it as "Apartment in Grade II listed building". And that did OK, but when I realized just how small Airbnb's slice of the market is (see this post) and how much more I could do if I added channels like booking.com and Expedia, then I realized that "Apartment in Grade II listed building" would look, well, weird, when competing with Brands like the Hilton and the Marriott.
The answer, therefore, to why you must brand your short term rental is this: Along with good reviews, a property that looks like a brand will build far, far more trust and confidence in potential guests that it's a professionally run operation, rather than someone renting out their spare property for extra income.
How do I build a brand for my short-term rental?
Building a brand for your short-term rental is actually much easier than people might think. People tend to hear the word "brand" and think that they have to create the next coca-cola or Nike. No. This isn't what I mean. By building a brand, I mean creating a professional identity for your business. This really comes down to the following 4 factors (to get started):
1. Choose a Name
Choosing a name is important for many reasons, but not least because it has an impact on your price point.
Think about the following: What would you be prepared to pay for a meal from somewhere called "Joe's Fish & Chips"? And then what would you be prepared to pay for a meal at a restaurant called "Chelsea Harbour Fine Seafood Dining"?
Yes, the two different names would attract a completely different clientele, but isn't that what you're trying to do? Attract the very highest paying clientele for your market?
By highest paying clientele for your market, I mean that every market is different. Some have a price ceiling of £100 a night, some £500 a night, but whatever yours is, surely you want the highest paying customers?
How do I choose a brand name?
Think about major hotel chains: Hilton, Marriott, JW Marriott, Ritz-Calton, Radisson, Hyatt. They are almost always just one word.
The slight difference between renting out apartments and branding them is that you do need to be clear that it's an apartment and not a hotel. So, to keep things simple, I would recommend "Your Name Apartments". In my case, I chose "St Andrews Apartments" as it was relevant to the building that the apartments were part of.
Here are some extra tips for choosing a name:
Brainstorm a short-list of 10 names
Ask other people to pick the 3 they like the most
If you don't like what they pick ignore it! You must trust your intuition when picking a brand name.
Ask yourself what does your name say about your business?
Does the name have consistency with the actual property and your branding (photos etc). An example of this is an apartment in the city I live in (a relatively small town in the UK) where the apartments are called "Millennium Heights"! – To me, this sounds completely out of place, especially as I've lived in another apartment building called Millennium Heights, which was one of the most sought-after apartment buildings in the Capital of China. This "Millennium Heights" was one apartment in an ex-council flat block! – i.e. the name is totally inconsistent with the building's style and location.
2. Get A Nice Logo Designed on Freelancer.com
Getting a logo designed is easy. Do this:
1. Go to Freelancer.com (You can login with Facebook)
You then have to fill in some basics about your project, but the most important bit is this:
2. Do not post a project, start a contest, then as long as your budget is reasonable $50-100 for a logo, you'll get a ton of entries and you can then give feedback and select a winner.
3. You can see here an example of the competition I ran, how the entries are submitted, and the winner I chose:
Here's another article about designing a logo.
3. Get a Website Built
There is of course a huge range of website-building options. I happen to own a company that builds websites, and if you want to contact me, you can reach me via our contact page here.
However, if you want a simpler option, I highly recommend the built-for-you website that booking.com offers. You access it via admin.booking.com
Click on the App Store.
And then go to "webdirect", and this will literally build your website for you in about 5 minutes.
The pricing options are either a monthly fee of about $150 or a commission on any bookings that come through your website. It really depends on how many direct bookings you get. But whatever the case, if you're already on booking.com, this is a very easy solution to the problem.
4. re-enforce the use of your brand
In order to take your brand from just a logo and a website, you need to ensure that everything to do with your property is branded consistently. This includes:
Email signatures
Welcome letters for guests
Branded House Manual
Pens you might leave on your property
Key Fobs
5. Use Social Media To Reinforce your brand
Facebook
Facebook, in particular, is an excellent way to build a brand around your business. It's easy to create a Facebook page, and relatively inexpensive to buy "likes" from people that are likely to be interested in your property or book. You can read more about using Facebook to build your business in my post here.
Once you have targeted people to like your page (I would suggest people who live in your city, to entice their friends and relatives to stay with you) you can "drip-feed" pictures, good reviews, and other "shareable" news to your audience. Here's an image of how one of my pictures went viral: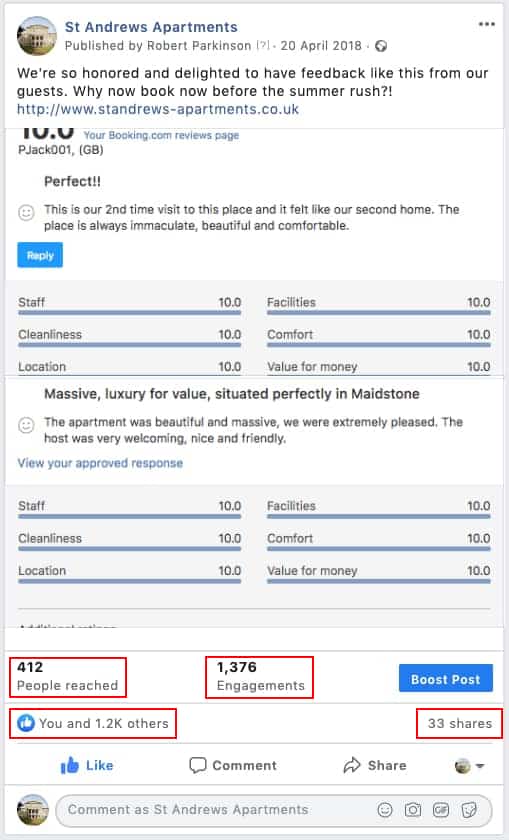 Instagram
People love pictures. This is partly why apartments and hotels that have great pictures get more bookings.
Take every opportunity to take unique, eye-catching photos in and around your property. Or in addition, you could post photos of events or relevant pictures of the city where your Airbnb property is located. Essentially anything that will engage your users and drive them back to your own website will be good to do.
Pinterest
Most people don't realize this, but Pinterest is actually more of a search engine than a picture-sharing platform (like Instagram). You can use the same pictures you take for Instagram and have pins that link back to your website. The traffic is actually very good from this platform – done right. Probably better than Facebook.
6. Use Google my Business
Google my business is great because it allows you to verify your property (google sends you a code through the mail) and then you can have your property show up in map search results, you can add a website and an address, and Google will automatically pull in reviews from other websites like booking.com and TripAdvisor. Put simply it's a great source of bookings.