There are a ton of really compelling reasons for your short rental property to have its own website. Most important of all, it's your 'internet business card' and gives people a way to contact you directly for those lucrative direct bookings.
But there are many other compelling reasons too. Let's check each one out:
1. Most hosts don't have their own Airbnb websites.
Many Airbnb hosts only see the short rental business through the prism of Airbnb. They're only on that platform, and they will only stay on that platform (Airbnb). I know this because on the many Facebook groups that I belong to I've seen evidence of people sticking to Airbnb religiously, almost as if it's a cult (!).
The way I see Airbnb, or indeed Booking.com, VRBO, Expedia, and all the other OTAs (Online Travel Agencies) is as a means to source guests/bookings. It's just a way of getting people to pay to stay at your property. If you invest in a website, and indeed in building a brand around your business, you will naturally get more bookings, but you'll also be doing something that most people don't bother doing. So therefore naturally, it makes sense to take advantage of something most people won't do as it really doesn't need much effort to get started.
Many people are also scared of trying to build a website. They look at page builders like WordPress, Wix.com, etc, and are horrified at the complication of it, so give up. In fact, it's very easy to build your own website (on average we build up to 20 websites every week for Airbnb owners), so slowly the tide is turning on this trend, especially after so many bookings were arbitrarily canceled due to COVID-19.
2. If you have your own website you can take direct bookings
Direct bookings mean one thing and one thing alone: no commission to online travel agencies! Many people actually look at online travel agencies (many of whom don't have a great reputation) and then Google the property to book direct.
If you don't have a website, it's impossible for people to contact you to book directly.
3. A short rental website makes you look professional
One of the reasons I have been successful in renting my short-term letting properties is that I don't simply treat it as a spare apartment that I let out (on Airbnb for example). I've taken the time to create a brand around it. Having a brand means you look professional and credible and therefore you'll get more bookings.
But what specifically does having a brand mean?
Designing a great-looking logo
Communicating with guests via my own domain using a professional email signature and well-written English
Automating things like checking in and communicating instructions to guests
Using a text messaging system that comes from a name and not a mobile number
Having a great-looking website
Avoiding references to me personally, and referring to our brand
Promoting the business on TripAdvisor, so it competes with hotels another "formal "accommodation providers
All of these things cumulatively present my apartments as a professional business rather than someone's spare property. This means you will attract many more bookers including business bookers which are often the most lucrative bookings.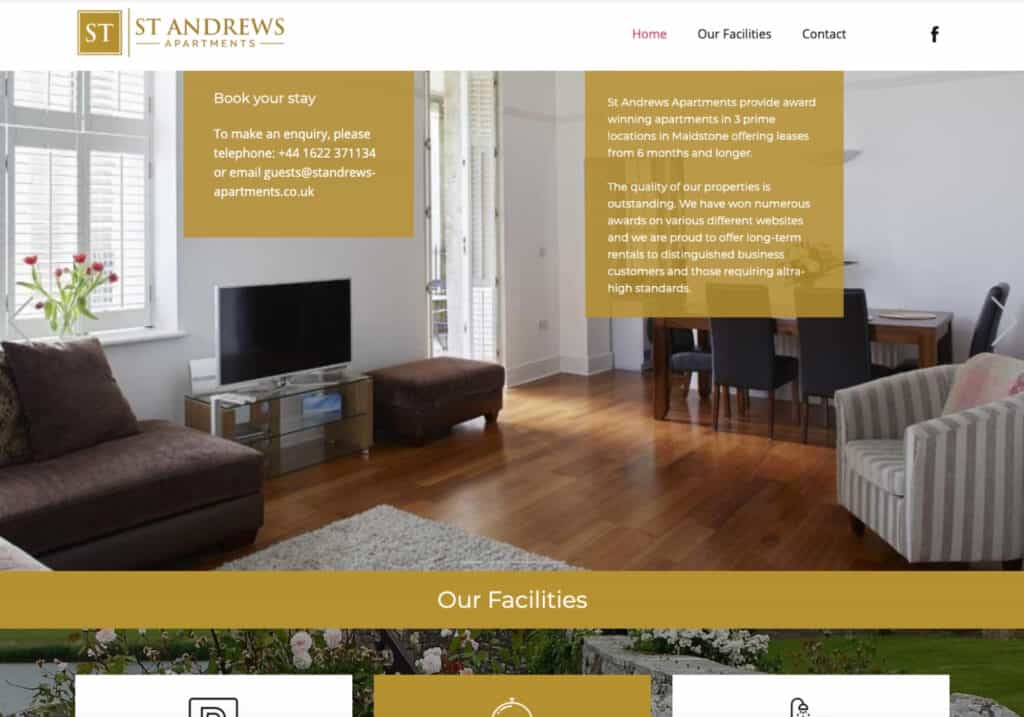 4. Selling your property via your website
Most online travel agencies including Airbnb, Booking.com, etc, have fairly limited 'fields' (spaces/sections) to add information about your property, and even when they do, it's quite generic information you can add.
It's certainly very difficult to customize, and what is important is that you sell your unique selling points, whichever they may be. For example, in one of my properties, I have large balconies and the building is a grade 2 listed building. This is a tremendous selling point, and my own website emphasizes this greatly.
Focus on your unique selling points on your website.
5. Advertising on your website
Your own short rental website gives you tremendous opportunities to add features that will help you market your business. These include:
Pop-ups on your site include promotions you might be running or special offers.
Detailed information on business facilities.
Promoting Long-term discounts and long-stay business guests
Adding mailing list sign-up forms
(Really the list is endless………).
6. Helpful information 
Your own website enables you to provide visitors (and indeed guests) with links and information to other helpful information. Examples of these include:
Shops in the local area
Other facilities in the local area (for example dry cleaning etc.)
Attractions in the local area. For example, theatres, concert venues, shops, and anything that the guests might be interested in.
Days out
Local walks
This information will not only be helpful to your guests and website visitors, but it will also help with SEO (which means search engine optimization). Put simply, this means Google rewards websites that provide people with helpful information by giving them greater visibility.
7. Guest arrival information on your website
In order to make everyone's life easier, high-quality arrival information is vital and it will make a huge difference (to everyone) if this is easily accessible. Having a guidebook/house manual at your property is useful, but in 2020 it's far more relevant and appropriate to have it on a website.
One thing to be aware of is to make sure NOT to put confidential information (about arrivals/your property etc) on searchable pages. These pages should be on a sub-domain (guests.your-property.com) and have a no-index tag.
In addition to pages with specific information about the property and the local area, I use embedded videos of my various properties features to show guests around, if I'm not able to meet and greet them (which when you start to scale your business you won't be able to), and this means, for example, you can show guests:
How is your kitchen laid out?
How to operate a washing machine and tumble dryer etc.
Where the iron and ironing board are.
How to operate the television.
….you get the idea! Basically, for anything that is not completely obvious, you can make a simple video using your phone to show your guests where things are and what to do.
Finally, and very importantly, you should also show your guests your health and safety, and fire information. And in addition where the main services like electricity, water, etc are turned off. Problems do arise, and having this information could be crucial.
In addition to videos, I also have separate pages with the following information:
Maps to local shops.
Very importantly the Wi-Fi information (everywhere!).
Check-out and times (on the back of the front door in large letters).
What to do in case of a problem, and what to do in case of an emergency. Note a problem is something that doesn't need resolving quickly, however an emergency is something that you need to attend to right away. The reason it's important to distinguish between the two is otherwise people will be contacting you for minor things that aren't emergencies and your stress levels will build! (Remember the purpose of this website is to help you make more money with less stress!).
8. What features does your short-term rental website need to have?
As an absolute minimum, the following features will give you a tremendous boost:
A brand name
A domain
Great photos
Phone number
Email address
A contact form
Even if your website is simple, and only has these features, it will be effectively your online business card, and enable people to reach out to you. However, you may wish to go further and add the following features:
A booking engine Linked to your diary
Ability to pay online using up-to-date 3-D secure credit card technology
A blog: if you are just one new post every week your website will soon start to gain traction with Google and your visibility will be boosted
A list of real reviews linking back to the website that the reviews came from (again great for SEO)
9. Google my business = website visibility boost.
Having your own website means you can sign up for a GMB (Google my business) account. This has a number of benefits. Firstly all of your reviews will appear in one place. Google very cleverly combines reviews from TripAdvisor, booking.com, Expedia, etc in one place, of course as well as their own reviews. Not only that but your property will shop on Google Maps making it easier for guests to find you, and of course, validating you as a serious credible business.
10. How can I build my own website?
It's true that anyone can use a platform like WordPress or wix.com to build a website, however, the best way of building a website for a short-term rental business or indeed a B&B or hotel is by using people who are in the business and also in the web design business. Like us!
In addition to a career in business spending almost 25 years, I have been a web developer (albeit for some of that time part-time) for almost 15 years, and I've been hosting (with fantastic reviews) for over five years. Put simply I understand the Internet, web design, and hosting, so I can put a website together for you extremely quickly, without you having to give me direction, And with a completely risk-free payment structure. You can find some examples of my work here. If you wish to work with me, there is a link to get started on this page.
I really hope you found this article useful. If you have any comments, suggestions, or ideas, please leave them in the box below. Finally, I also have a Youtube video on this subject which you can watch just below:
11. Use Social Proot to boost conversions
Social proof means resources on the internet that are reliable and demonstrate your product or service. In the context of short-term property letting, there are a couple of options available. On my website St Andrews Apartments, I use Repuso, a very inexpensive way of showing off your reviews. I strongly suggest you take a look – here's the link and demo.
Further Reading: