As you can imagine, I'm a member of most of the Facebook Airbnb, and short-term rental groups, and if there's one subject that comes up time and time again, it's Airbnb reviews specifically bad ones.
Let me just shoot from the hip for a minute: Bad reviews, are not bad. They are a fact of a real business. Sure, if 90% of your reviews are bad, you have a problem, but a real business would expect to have a blend of reviews, with the average being the thing that really matters.
Why Airbnb's Review System is Wrong
Fundamentally, Airbnb makes a great deal of its "SuperHost" status, and a major component of this is reviewed. True, some people really care about this, and it's also – allegedly true that it does make some difference in rankings, but the fact is, that there is no business in the world that has some or indeed any significant scale that pleases everyone all the time.
And, I can only conclude that the Airbnb review / SuperHost system by insisting on such high reviews is either trying to keep businesses small or realizes that its review system is flawed. (Here's an article that highlights the Airbnb review system's flaws).
Look at their criteria for Superhost status: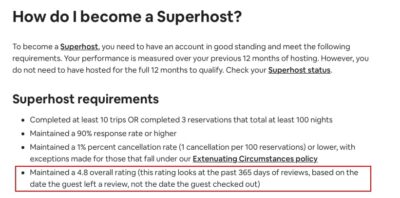 This means – I think – that if you had 100 guests in a year, 96 of those guests would have to rate you at 4.8 (more or less 5/5). How realistic is that? Not very I would think when you take into account all of the many reasons people leave poor reviews.
Wouldn't it be a better system if you were rewarded for footfall, as well as quality as all the other review websites implicitly do? (By the way, if I've got my maths wrong, please leave a comment 🙂 !)
Let's look at a real-life example of how reviews work much better than Airbnb's on the No 1 review site in the world: tripadvisor.com
Why the volume of reviews matters as much as quality:
Look at these two images of the reviews of two hotels in Phuket, Thailand:


Although these hotels are in different budget ranges, and in different places, most people, I would think would immediately focus on the Dusit Thani Laguna Phuket, as it has 2,563 reviews – 10 times that of the first hotel, and they both have a few non 5* reviews, which is perfectly normal.
So look at this further and let me try and convince you why you shouldn't get upset about poor reviews:
If you drill down into the detail of the Dusit Thani's reviews, you find this: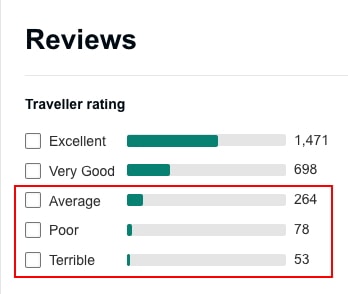 The chances are that those people that left "Average", "Poor", or "Terrible" reviews were:
Inexperienced Travellers
Having a Bad Day
Just got divorced
Just got Married
Had food poisoning from street food
Were sick
Were jet-lagged
The children were driving them nuts
the list goes on………
The point I am trying to make is that no property which is a real business and has a high volume of "footfall" will get stunning reviews the whole time. My evidence shows that they don't; yet if we go back to Airbnb, they punish you for a tiny amount of reviews that aren't 5*. So, don't worry about it.
(By the way, as a matter of fact, the Dusit hotel in Phuket is a phenomenal hotel, which my wife and I have stayed at 5-6 times, so this only goes to show that TripAdvisor's model is right).
Will bad reviews affect the number of my bookings?
When it comes to Airbnb, I can't say we've ever had a terrible review. We had one instance where I told a bride-to-be she had to be out by 11 am having forgotten I gave her a late checkout, and she was very upset by this (despite the problem being rectified in 2 minutes).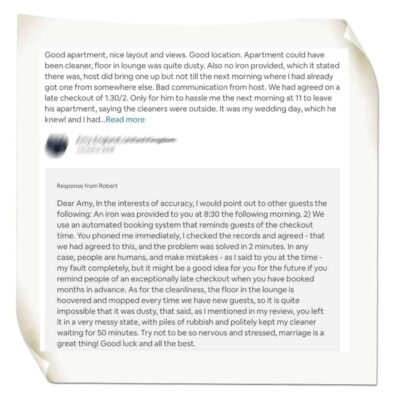 I really didn't think too much of this (in other words it didn't worry me). I put it down to her nerves at getting married and asked future guests with a late check out to remind me, but when it comes to the question of "Did that review have any impact on my Airbnb Bookings?" No is the simple answer, in fact, after that, we had more bookings from Airbnb than we'd had for a while! (I can't prove that to you, but take it from me it was true).
So how do you handle bad reviews?
I would answer in one word. Be human.
If you've screwed up. Apologize. If you haven't and the guest is exaggerating, then say so. We need to keep Airbnb real. A constant theme throughout my blog is that we're not running hotels. And we're not. If people want a concierge and driver, then they should check in to the Ritz Calton.
I've never found in business (and I have a couple of other businesses besides Airbnb) that being too deferential to customers is a good idea. If anything being assertive and standing up to bullies (politely) is the way to de-escalate a difficult situation.
However, to give you some more meat on the bones, here are some examples of how I've dealt with specific situations:

(and there are some more great ideas in this piece on forbes.com about bad Airbnb reviews).
Problem 1: "There was no mineral water ready for us on arrival"
We're in England. You can drink the water, and our fridge makes ice.
Problem 2: "The central heating's not working"
I had a plumber out in 90 minutes who took the boiler to bits and had it back and heating within 2 hours. This was a woman in her 50s on her own, and from Yorkshire. Lovely.
Problem 3: "There was a hair in the shower"
Take it out then. Even cleaners have hair.
Problem 4: "Tony, the tap's dripping and we can't open the balcony door" (+ more rudeness)
Email from me to her: "If you want me to help you, then be polite. I'm about to fly to London from Hong Kong. I'll come and see you tomorrow".
Tomorrow when I show up:
The woman backs down dramatically and very polite (husband wanted the floor to swallow him up).
I explained how a key works in England (for the balcony) and then spent two hours sweating over fixing the tap. But that was an interesting learning experience.
I invited them round for drinks in the garden in the evening. We spent a good few hours drinking a good few bottles of wine, and it was not unpleasant.
Review 7.8/10 (aaaaargh!)
OK, enough of the stories, here are some specific generalities on how to handle reviews:
1. Wait
You may well have heard this before, but many people say you should give it 24-48 hours before responding to bad reviews. Of course, I rarely follow my own advice, but luckily on some platforms you can delete them (but not Airbnb).
2. Use Humour (if it's your thing)
For me, at least, there's nothing that takes the heat out of a situation than humor. If you can use this with your guests who have a problem prior to them writing a review, then so much the better. But if you have to respond to a review, using humor will only go to show that your feathers are not ruffled easily and you're the sort of chilled out chap that people might want to stay with.
As Charles R Swindoll said, "Life is 10% of what happens to you & 90% how you react". Now that might sound a bit of a cliche, but there's a lot of truth to it.
3. "Kill them with Kindness"
Ok, another cliche, you'll have to indulge me, but this one really really works. If someone expects a confrontation or a fight over something, and all you are is helpful and nice, people will be butter in your hands in no time.
4. Fix the problem
Potential guests know that problems arise sometimes, and even if they mention it in their review, they might also be kind enough to mention how you fixed the problem. If they don't then you can.
Whilst I don't think our business is trying to imitate hotels, we should try and make guests' stay as pleasant as possible, so if you can, and especially if the guests are nice. Help them out. Then they'll be much more likely to help you out.
Wrapping up
I hope this post has been useful to you in some way. My main message is not to get too stressed out over bad reviews, as:
There's no point
You won't learn from them
Unless you've only got 5 reviews, they won't matter
But, I realize that a lot of this is just my opinion. Please tell me what you think in the comments below. How do you handle bad reviews? What are your special tips?
To our mutual hosting success,
Best Wishes,
Tony