I have been running a two-apartment business with lets on Airbnb.com, Booking.com, and Expedia.com, etc for about 3 years now. I love the business, and – with all modesty –  we've done well. We're rated 9.3 on booking.com, 9.9 on Expedia, 10/10 on TripAdvisor and I have been an Airbnb "super host" (more about that later). (You can check us out here – https://www.standrews-apartments.co.uk).
I learn every single day, but I do believe I have some great tips to share with you as to how to create a winning short-term let that guests really will love.
Here's my strategy (or what I found works):
(Ideally) make sure you have a great location. Our apartments overlook parkland, are in a Grade II listed building, and yet are very central.
Make sure you furnish it nicely. If everything is the cheapest Ikea has to offer, then that's not going to go down well.
Make sure that everything is in service and well maintained. Remember, guests open storage cupboards so this applies to these to.
Make sure you are getting good reviews, and immediately act on negative comments. Reviews are your guests' way of telling you what they want. I can't emphasize this enough. Reviews are the only thing that matter to getting booked. (We've had two unbooked nights in the last 12 months.
Have a simple, easy system that works to communicate with your guests and ensure they have the correct information.
Pay great attention to your cleaning. Guests hate dirty properties and in particular the key "touch points" really matter (i.e. your kitchen, bathrooms, and bedrooms).
If you follow this strategy you stand a very high chance of being successful.
But let me dive into these points in more detail, as what often sounds easy is much harder than you might think. We make enough money to live on from these apartments and you can too, so read on and please feel free to comment and share this real-life content.
How to Create a Winning Let – Getting Started.
All of this starts with a nice property in the first place. Of course, if you are lucky enough to have an apartment in a historic location, then so much the better, but I know of other successful properties in ex-council (community) flats, or in areas that frankly are not that nice, but they still do really well.
So what's the secret?
Furnish nicely, smartly, and conveniently.
Note that it does not cost the earth to furnish an apartment nicely (see our article here on how to furnish an apartment/home). As a rule of thumb, keep it simple and functional. But there are things to keep in mind.
Sofas – are they comfortable? I have bought sofas in the past that looked nice but were horrid to sit on. £600 once came and went in one day because of this. You should also think about the practicalities of having a large number of people coming through your property. Faux leather falls to bits easily for example, and if you can't wash sofa covers when children draw on them (families are a major source of our income) then you have a problem. Ikea does an excellent range that we use for all of our apartments and our home. The covers come straight off and can be machine washed.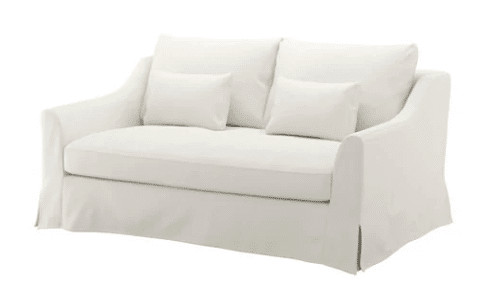 Photo c/o ikea.co.uk
People who opt for self-catering rather than staying in a hotel need somewhere to sit and eat, so don't skimp on this. I spent rather too much money on tables and chairs, but then again guests do frequently comment on how nice they are in both apartments. The key is to go mid-market. Don't buy something that obviously looks cheap, and doesn't pay silly money at the other end. Also, if you're letting your property to more than two people at a time, you ought really to have at least 6 chairs.
TV – don't break the bank on this. There is absolutely no reason to spend any more than £200 on a television at most, but it should be a smart TV so that people can use HBO (US) BBC iPlayer, Netflix etc. Also, TVs that are too big tend to dominate rooms. I also avoid wall-mounted stands. TVs on tasteful TV tables look much nicer.
Here's the living room in one of our apartments complete with TV and stand: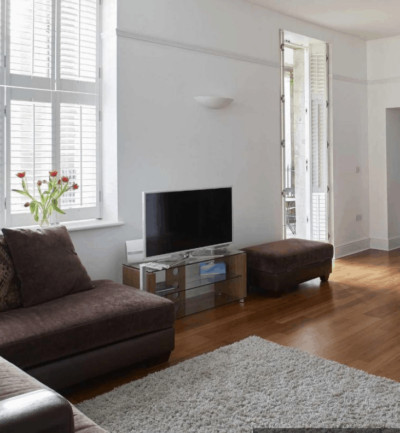 photo c/o standrews-apartments.co.uk
Kitchens: If you have a kitchen, and you really should if you're letting a self-catering property, make sure you have enough: pots, pans, glasses, cutlery, etc as well as the basics of equipment like a microwave, a kettle, and a toaster. Other specific kitchen tips:

Make sure the fridge is clean and empty except for some milk.
Buy cheap pots and pans and replace them regularly. This is a much better idea than having expensive stuff that's scraped and horrible.
Make sure that as part of your cleaning regime, cups and other crockery are thoroughly cleaned. Don't rely on a dishwasher to do it for you.
Make sure the oven is spotless. Even if no one uses it, people will appreciate the fact that it's clean. You can buy bags to put your oven shelves in, pour in some liquid, and overnight they will be spotless.

Bedrooms: Above all else, the bed must be comfortable. Remember that you will have some people who prefer a hard mattress and some who prefer something softer, so go for somewhere in the middle. Also: very important: There will be 'accidents' on the bed, so make sure you use a mattress protector that's easy to wash. People will check.

Keep bedrooms, simple and functional.
TVs are usually required in a master bedroom.
Items like mirrors and hairdryers are important, especially for ladies. Make sure they are there and on display.
Make sure you have at least some storage. Longer-staying guests will want a chest of drawers and a wardrobe.

Bathrooms: Keep them clean!

They don't have to be brand-new. Don't waste your profits on replacing things that don't need to be.
They must be, look, and feel clean. This is essential. Make sure your cleaner has a clear checklist for this.
Supply at least hand soap. We used to supply hotel goodies too, but for a set-up where margins are tight, we stopped this, and have had no major complaints. Remember you might be charging the same as the Hilton, but what the guests lose in amenities they gain (massively) is space.
Cleaning and Maintaining
Cleaning
I have a whole post about hiring cleaners. Here are some basics to get you started:
Ensure that your cleaner some a proper job. This means checking their work regularly.
Make it clear what is expected of the cleaner in writing.
Use a checklist of what should be done on a change-over, weekly, and monthly basis.
Be aware of the legal aspects of cleaning. For example, in some countries bleach is not allowed to be used.
Realize that guests will open storage cupboards, boiler cupboards, under sink cupboards etc too. Make sure these are clean.
The kitchen and bathroom must be spotless.
At least monthly, move sofas and vacuum under them.
On every change-over check behind sofa cushions for lost items. The last thing you want your guest to find is someone else's rubbish.
Make "checking" part of the cleaning routine. At least 15 minutes of a cleaner's duty should be to run through a checklist of what they have done to make sure it is all done. It will annoy guests if there isn't any coffee or milk if you advertise that there is.
Realize that with cleaners you do not get what you pay for. Some of my most expensive cleaners did the worst job. But when you find someone good, look after them.
Make sure you have a manageable system for laundry. Your options are:

Do in-house – time-consuming and resource-heavy
Outsource – can be expensive
Think about the materials you use. It is possible to buy high-quality bedding and towels that dry quickly.
Make sure that whoever is doing your laundry checks for stains of any kind, including make-up. No one wants to sleep on or dry themselves with soiled sheets or towels

There is a solution to doing this effectively. I will publish another post on this in detail, but you do need to get this right, as this is a major cost.
Maintenance
You need to allow for this and ensure that you or someone else can come in and fix things at a moment's notice. Poor maintenance is not just unsightly, it's a message to the guest that the property is unloved. Issues must be dealt with immediately.
Ideas:
Learn how to paint. Youtube is rich with resources on this. External painters cost a lot of money. It is not hard to do it yourself, but it is important to do it. Guests expect to stay in fresh, clean rooms.
Have a supply of things like lightbulbs and other regularly used items in your (locked) storage cupboard.
Develop a network of trusted specialists. If you need a plumber at a moment's notice, then you will probably have to try a few people out to find the right person. Pay them immediately.
When considering things like re-doing bathrooms, remember that there are ways to make things look new without spending thousands of dollars/pounds etc.
Here's a youtube video of a bath being made to look brand new as an example:
Advertise Your Property
Of course, you will never get booked if you don't advertise and the vast majority of my bookings come from two sources, however, my property is advertised on at least 300 websites. More on that in a second.
Start with the Photos
Before you advertise, you must take awesome quality photographs. This means two things:
Make sure that when the photographs are taken the property looks fabulous, meaning: colorful pillows on beds (just like hotels), and amenities on display that are spotlessly clean.
Have the photographs taken on a sunny day. There is no point in having a property that is usually light and spacious being photographed on a dark and rainy day.
Invest in professional photographs. Sorry iPhone, but in my view, here you just don't cut it. The one thing your guests will look at above everything else is your photographs. These must be great, and to be honest even my current photos could be better.
Here's a great website for learning how to take great pictures: improvephotography.com.
Use a Channel Manager
If you go straight to a website like Airbnb or booking.com or expedia.com (and you MUST be on all of these websites, you will have to fill out an awful lot of information and repeat the process many times.
What's a Channel manager?
A channel manager does the following:
Takes your property description, photos, prices, policies etc, and distributes them to hundreds of other websites.
They then collect all of the bookings for you and put them in one simple diary for you to see.
They often look after the billing too, saving you a major headache.
They save you from getting booked twice on the same day (double booking).
They are not expensive. I pay less than $100 a month. A great investment and time-saver.
Look After your reviews
Reviews are everything. They are an endorsement of your property and get people to book with you. You will get reviews on TripAdvisor (see ours here) and from individual websites. Key points to think about:
Read every review and respond to them.
If they are critical, thank the person for the feedback, even if it's unfair.
Implement immediately all suggestions on your review page.
The more personal contact you have with your guests the better your reviews. I try and call every guest before they check in to welcome them and ask them if they received our welcome email, and do they have any questions. Even better meet them yourself.
Further Questions:
If you have further questions or comments, please post them below, and I will endeavor to answer all of them. I also welcome ideas and feedback from other hosts and hoteliers.
You might also be interested in: